The end of Windows 7 is coming on January 14, 2020. Using Windows 7 after that date may put your computer at risk as Microsoft will no longer be sending security updates and fixes for it.
Whether you upgrade your Windows 7 to Windows 10 (still free) or buy a new Windows 10 computer, we can make you feel right at home on Windows 10 with our Windows Transformation service. We can make your Windows 10 look like this:


The Green Light to Install Windows 10 Version 1903
Windows 7, Windows 8.1 and Windows 10
If you've been holding off installing Windows 10 Version 1903 (May 2019 Update) as we suggested and let other people be the "testers" and "guinea pigs", you can relax and install Windows 10 May 2019 Update or Version 1903 as it's also known whenever you're ready.
Windows 10 Version 1903 was released on May 21, 2019 – almost a month ago – and so far the only problems we have seen reported have been minor. The only major problem is the warning that "This PC can't be upgraded to Windows 10" – for which a workaround was issued back in April. If you do get the poorly-worded warning "Your PC cannot be upgraded to Windows 10" here's the workaround from Microsoft:
"…To work around this problem, remove all external media, such as USB devices, SD cards, and UFS cards, from your computer. Then, restart installation of the Windows 10, version 1903 feature update. The update should now proceed normally.

If you are using installation media (USB flash drive, DVD, or ISO file) to install Windows 10, copy the files on the installation media to your local drive, and then start the installation from the local drive…."
So, it would be prudent to use the Update assistant to update to Version 1903 and remove all external drives, USB drives, SD cards, etc. from your PC before you start the upgrade.
Version 1903 has a lot of really useful new features, some of which we outlined on this page.
Here are 3 ways you can upgrade to Windows 10 Version 1903:
1.) This is our recommended way to update. Go to this page and click on the "Update now" button. This will download the Update Assistant. Once it's downloaded, click on it to run it – it does not install. The Update Assistant will download the Windows 10 Version 1903 installation files. This can take a while, depending on your connection. It can take 10 or 15 minutes if your connection is very fast or it can take a few hours if your connection is slow. In any case, you'll be able to keep using your computer during the time Windows 10 is downloading. Once the download is finished, you'll have the option to click "Update now…."
2.) Visit this page, click on the "Download tool now" button to download the Windows 10 ISO file (from which you can make a Windows 10 installation DVD) or the USB media from which you can make a Windows 10 installation USB. You can then use the media to install Windows 10 Version 1903 by putting the DVD in the DVD drive, opening it in File Explorer and clicking on Setup.exe on it. Or if you created a Windows 10 USB flash drive, put the flash drive in a USB slot, open it in File Explorer and click on "Setup.exe". In either case, make sure you choose the upgrade option and not the clean install option.
3.) If you're using Windows 10 Version 1803 (or an earlier version of Windows 10) you can try this:
a. Right-click on the start button
b. Click on "Settings"
c. Click on "Updates & Security"
d. Click on "Check for updates"
If Windows 10 Version 1903 is available via Windows Update then you'll have the option to install it via Windows Update.
Remember, all computers are different and we can't make a blanket statement that none of you will have any problems with the update. However, we have not seen any major problems so far with the May 2019 Update – but there have been some minor issues that are not critical.
And remember: If you're not happy with Windows 10 May 2019 Update (Version 1903), you'll have 10 days to go back to the previous version of Windows 10 without losing any data, programs or settings.
To go back to your previous version of Windows 10, do this within 10 days of installing Windows 10 Version 1903.
1.) Right-click the start button
2.) Click "Settings"
3.) Click "Update & Security"
4.) Click "Recovery" (in the menu on the left)
5.) Click on the "Get started button" under "Go back to the previous version of Windows 10"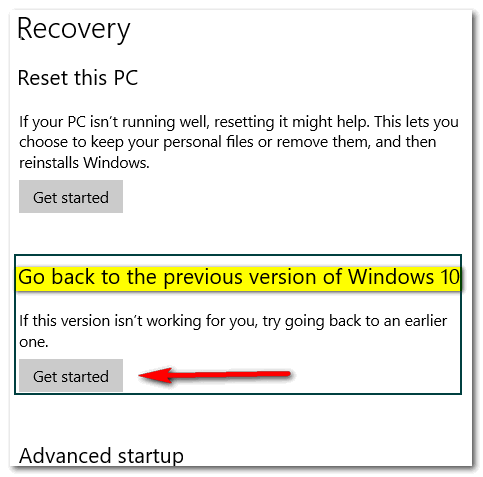 It will take between about an hour for Windows to complete this operation.
Good luck with your update!
NOTE: If you're using Windows 7 and you're going to upgrade to Windows 10, check out our Windows 10 Transformation service!



Windows 10 Version 1903 Is Easier On Your Eyes
Windows 10 Version 1903 (May 2019 Update)
If you have problems reading text on your screen, Windows 10 Version 1903 has some features you're really going to like. All we can say is, it's about time.
In Windows 10 Version 1903, Settings > Ease of Access > Display you'll see that there are sliders available that will help you increase the size of the text on your screen (without making everything else bigger), as well as a slider to make everything bigger, and a slider to make everything brighter, Plus, you see an option to "Change the size and color of your cursor and mouse pointer".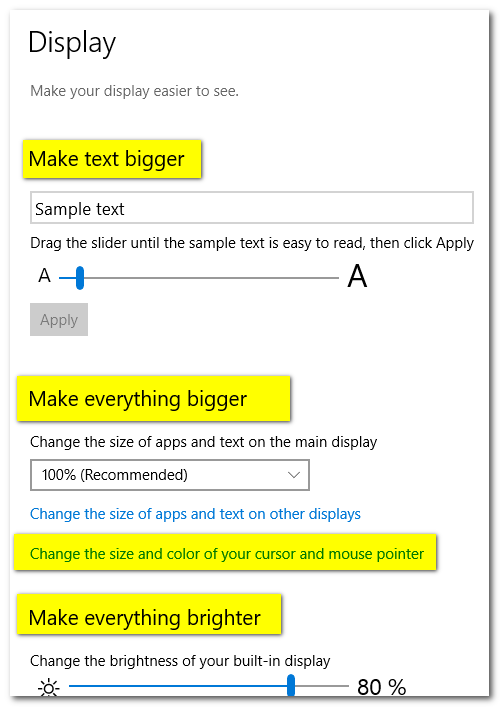 We find the option to make the text bigger without making everything else bigger a great feature that works very well.
As you can see below you can increase the size of the text by moving the slider to the right. And you can make it smaller by moving it to the left. Try different settings until you find the one just right for you. I have mine set at 114% and it makes the text on my screen much easier to read.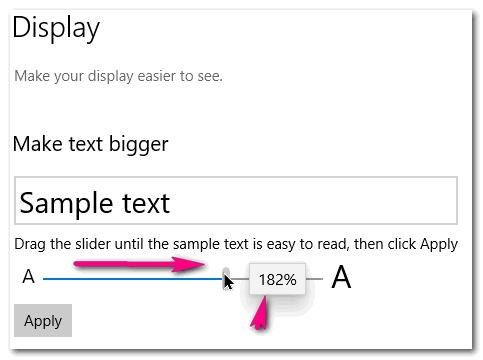 You can increase the size of the text up to 200+ %. What looks good to you? Try it and see. If you don't have Windows 1903 yet, you can save a copy of this tip as a PDF file, or print it out, or email it to yourself. It's easy – just click the Print Friendly button at the top of this article.
Here's a quick tip for you that works on any version of Windows 10:
The fastest way to get to Settings > Ease of Access is to hold down the Windows key and tap the U key.



How to View or Print a List of Processes Running on Your Computer
Windows 7, Windows 8x, Windows 10 (all versions)
First, let's open a command prompt with administrator privileges.
Here's how: On Windows 10 type CMD in taskbar search, right-click on it when it appears at the top and then choose "Run as administrator". In Windows 7 type CMD in the start menu search, right-click on it when it appears at the top and then choose "Run as administrator". In Windows 8.1 press Windows Key + S, type CMD in the search and right-click on it when it appears in the results, then click "Run as administrator".
At the prompt, type:
tasklist
and press Enter: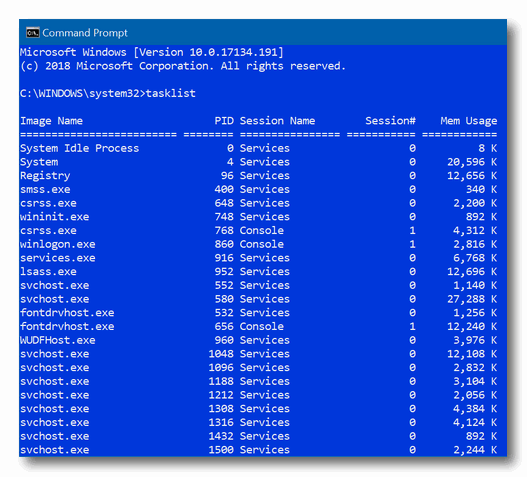 As you can see (above) you'll get a list of all processes running on your computer. You can scroll through the list and see every process that is running on your computer at the time you ran the command.
If you want to print a list of processes, it gets a little more complicated.
At the prompt type:
Tasklist > C:\
and the directory in which you want the file to be saved. In the example below, I'm saving the list with the name "running-processes" in my documents folder so the command line shows:
tasklist >C:\users\thunder\documents\running-processes.txt

You can save the file to any drive or folder you want to… but remember, spacing is important and you must know the complete file path. The simplest way to do this is to just save it to the root of the C:\ drive… with the command
Tasklist >C:\running-processes.txt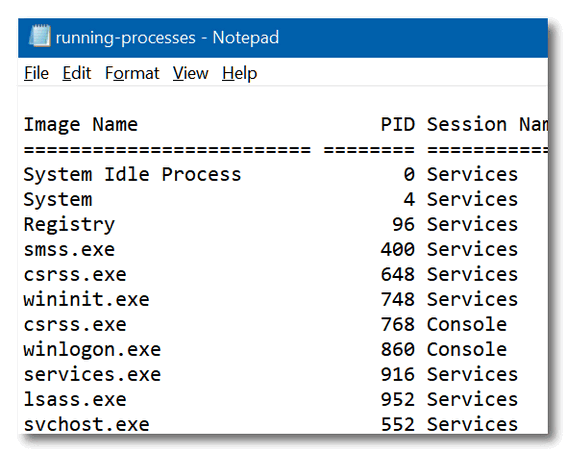 Above: The text file we created using the tasklist command.
That's all there is to it!



Windows 10 Now Allows You to Drag and Drop Fonts to Install Them
Windows 10 Version 1903 (May 2019 Update) and newer
Back in the old days, installing and viewing fonts in Windows was a daunting proposition, but no more. Windows 10 Version 1903 brings with it a drag and drop install feature. Plus, like its immediate predecessors, it displays all fonts installed on your computer in a clean and uncluttered window. Now you'll see all your fonts just the way they'll look when you use them. No more guessing which font might look right for your project.
Here's a screenshot that tells it all.
And in the same dialog, you can scroll through all your fonts and see exactly what they look like.
You can find the Drag & Drop font installer and preview all your fonts this way:
1. Right-click your desktop
2. Click "Personalize"
3. When the "Personalization" settings app opens, click on Fonts in the left pane. That's it!





Want more computer tips & tricks?
How to Turn on Advanced Search in Windows 10 Version 1903
More Features of Windows 10 Version 1903 We Think You'll Like
We have thousands of Windows tips, tricks and more on our InfoAve web site. Come see for yourself!



Emsisoft One-Year License with Free Cloudeight Installation, Setup & MORE!
Some of you are still not using Emsisoft. So, today, we're making you an offer you can't refuse! If you're not yet using Emsisoft, here's your chance to get the best protection you can buy and we'll install it and set it up for you FREE.
Buy a one-year Emsisoft License from this page and get everything listed below:
Removal of your current antivirus.
Double-scanning of your PC for hidden malware
Installation and setup of Emsisoft
One-year license for Emsisoft
Configuration of Emsisoft for best protection
Visit our Emsisoft page and get everything listed for just $29.99
Isn't it time you switched to Emsisoft?


FastStone Image Viewer
We've always been big fans of FastStone Capture for a very long time. In fact, it's our screenshot tool of choice. Sure, it's old, but the developer still updates it, and it does everything we need it to do
The other day, I was downloading an updated version of FastStone Capture, and accidentally downloaded FastStone Image Viewer. Now, we are Irfanview fans and have been since Darcy introduced me to it way back in 1998. I've used it Windows 98, Windows 98 SE, Windows ME, Windows XP, Windows Vista, Windows 7, Windows 8x, and with every version of Windows 10, I've had. But there's an opportunity in every miscue, and so it was with my mistaken download.
Now, I'm not going to lie to you and tell you that I'm about to replace IrfanView with FastStone Image Viewer, but I'm going to tell you that many of you will love the extra features of FastStone Image Viewer that are missing in Irfanview.
FastStone Image Viewer is an image browser that almost instantly provides you with a "contact sheet" of every image in a folder. You can batch rename, you can create slideshows and even add music, batch resize photos, and much more.
And rarely do we ever come across a developer who is more verbose than us. But the developer of FastStone Image Viewer is one. So, rather than us telling you all about the program, we're going to let him/her do that for you and spare you our sparkling diatribe.
So, we'll start with some screenshots, and then let Mr. or Ms. FastStone tell you all about FastStone Image Viewer.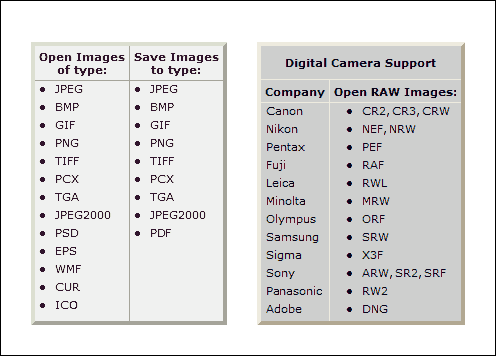 Now, from the developer of FastStone Image Viewer:
FastStone Image Viewer is a fast, stable, user-friendly image browser, converter and editor. It has a nice array of features that include image viewing, management, comparison, red-eye removal, emailing, resizing, cropping, retouching and color adjustments. Its innovative but intuitive full-screen mode provides quick access to EXIF information, thumbnail browser and major functionalities via hidden toolbars that pop up when your mouse touches one of the four edges of the screen. Other features include a high quality magnifier and a musical slideshow with 150+ transitional effects, as well as lossless JPEG transitions, drop shadow effects, image annotation, scanner support, histogram and much more. It supports all major graphic formats (BMP, JPEG, JPEG 2000, animated GIF, PNG, PCX, PSD, EPS, TIFF, WMF, ICO, CUR and TGA) and popular digital camera RAW formats (CR2, CR3, CRW, NEF, NRW, PEF, RAF, RWL, MRW, ORF, SRW, X3F, ARW, SR2, SRF, RW2 and DNG).

True Full Screen viewer with image zoom support and unique fly-out menu panels
Crystal-clear and customizable one-click image magnifier
Powerful image editing tools: Resize/resample, rotate/flip, crop, sharpen/blur, adjust lighting/colors/curves/levels etc.
Eleven re-sampling algorithms to choose from when resizing images
Image color effects: gray scale, sepia, negative, Red/Green/Blue adjustment
Image special effects: annotation, drop shadow, framing, bump map, sketch, oil painting, lens
Draw texts, lines, highlights, rectangles, ovals and callout objects on images
Clone Stamp and Healing Brush
Superior Red-Eye effect removal/reduction with completely natural looking end result
Multi-level Undo/Redo capability
One-touch best fit/actual size image display support
Image management, including tagging capability, with drag-and-drop and Copy To/Move To Folder support
Histogram display with color counter feature
Compare images side-by-side (up to 4 at a time) to easily cull those forgettable shots
Image EXIF metadata support (plus comment editing for JPEGs)
Configurable batch processing to convert/rename large or small collections of images
Slideshow creation with 150+ transition effects and music support (MP3, WMA, WAV...)
Create efficient image attachment(s) for emailing to family and friends
Print images with full page-layout control
Create fully configurable Contact Sheets
Create memorable artistic image montages from your family photos for personalized desktop wallpapers (Wallpaper Anywhere)
Acquire images from scanner. Support batch scanning to PDF, TIFF, JPEG and PNG
Versatile screen capture capability
Powerful Save As interface to compare image quality and control generated file size
Run favorite programs with one keystroke from within Image Viewer
Offer portable version of the program which can be run from a removable storage device
Configurable mouse wheel support
Support program skins
Support dual-monitor configurations
Support touch interface (tap, swipe, pinch)
Support dual instances
Play video files (Third party codecs may be required for old versions of Windows)
And much more...

No Adware. No Spyware.
Free for Home Users
So, see? Sometimes mistakes can be fruitful. And we plucked a great freeware pick from this one. Learn more about and/or download FastStone Image Viewer from this page. There are no tricky download links or buttons. No malware, spyware, grimware, or other foolishness going on here. You can download FastStone Image Viewer without trepidation.





Now available: Reg Organizer 8.29

If you purchased or renewed Reg Organizer through Cloudeight within the last 12 months, you're entitled to a free version upgrade to Reg Organizer 8.29.

Save $14 on Reg Organizer right now!

Reg Organizer - A Swiss Army Knife of Windows Tools - Works Great on Windows 10!






On Faith and Riding a Bike

Almost all of us with children have had the common, yet amazing, experience of teaching a child to ride a bike.

Before I get rolling, let's clarify the word "bike". Long ago, unfortunately, the word "bike" was an unambiguous word that meant bicycle – the kind with two wheels, a bell, streamers, and usually a kid perched upon its seat. But now it can mean – and often does – a group of men and women, roaring down the road, two-by-two, in lines of "bikes" a half-mile long. Most of them decked out in black leather accouterments. Any many with wallets hanging from chains. Why is that I wonder? Anyway, other than misusing the word "bike", it's all well and fine with me – to each is own.

I want to emphasize, though, that in my world a motorcycle is not a bike. Motorcycles are fine – if you like them, but they're not bikes. And I don't like "bike weeks" either, because bike weeks should be reserved for bikes – the bikes with streamers and bells on the handlebars and kids – or wannabe kids – in the seat.

I digress. If you've had the experience of teaching a child to ride a bike – or if you remember your own experience of learning to ride a bike – have you ever thought about what a magical and life-changing experience that is?

We have all heard the aphorism "just have a little faith". But I'm sure there's no such thing as a little faith. There is only big, complete, and total faith. You have to believe without any doubts to have faith. That's what faith is all about. It' big-time faith or none at all – at least if you want good things even amazing things to happen.

It's a particularly sunny, spring day long ago. My oldest son was 7 years old at the time. I bought him a brand new bicycle – a Schwinn. It was a great brand when I was a kid, but I guess Schwinns are made in China or Indonesia or somewhere else these days which does not make them bad, but they're sure not the same, But back then, I bought him a 24" American-made Schwinn, which was a mite big for him, but like all things you buy for kids, you buy with the future in mind. Kids grow.

I know he was skeptical about his ability to ride a "two-wheeler"...
Read the rest of this essay here.




Make a small donation and help us help you!
If you don't need any of our products or services right now, please help us with a donation. Even the smallest gift is appreciated. Every donation helps us to provide useful information that helps you with your computer as well as helping to keep you safe on the Internet. We offer free help to thousands of people every year... and we offer an honest and inexpensive computer repair service too. We do everything we can to help you with your computer and keep you safe too.
So if you don't need any our products or services right now, please consider helping us with a small donation. We'd appreciate it very much!
Please help us by making a donation right now.


Thank you!



Do you have a Gmail account?

Did you know that if you open your Gmail account on the web, you can see all your emails, even those you've read or viewed, and even the ones you have downloaded using an email program? Yes, you can. And all you need to do is find the "All mail" folder and click it to open it. In the "All mail" folder you'll see, as the name implies, all of your email. The only time anything is removed from that folder is if you intentionally opene that folder and delete something from it.



Sales of the following products and services help support our newsletters, websites, and free computer help services we provide.

Cloudeight Direct Computer Care: Single Keys, SeniorPass or Season Tickets - always a great deal. Cloudeight Direct Computer Care is like having PC insurance. Get more information here.

Emsisoft Anti-Malware: Emsisoft is the only Cloudeight endorsed and recommend Windows security program. It provides users with a complete antivirus, antimalware, anti-ransomware, anti-PUPs solution. We offer single Emsisoft licenses and multi-computer licenses at discount prices. Also, we offer our exclusive Emsisoft with Cloudeight installation & setup. Get more information here.

Thunderbird Email Setup: Thunderbird is a great email program that you can use with your Gmail and Outlook.com (Hotmail) webmail accounts as well as with your Internet provider's email. We'll set it up right for you. Our set up includes configuring up to 3 emails accounts and setting up Thunderbird to use stationery (if desired). Our Thunderbird Email Setup Service is always a great deal. For more information visit this page.

Reg Organizer 8.29: Reg Organizer is the Swiss Army Knife of Windows tools. It's far more than just a registry optimizer and cleaner... it's Windows all-in-one toolkit. Helps you keep your computer in tip-top shape and helps solve annoying Windows problems. Reg Organizer works great with Windows 10 too! Get more information about Reg Organizer (and get our special discount prices) here.




Premium Subscribers' Home Page. You'll find the last few weeks of Premium archived on this page.
To change your subscription address, see "Manage your subscription" at the bottom of this newsletter.
Submit your questions, comments, and suggestions for possible inclusion in our newsletters here. This form is for questions, comments, and suggestions for this newsletter. This form is not for product support, stationery questions, or general questions concerning our products or services.
Send us your suggestions and recommendations for future freeware picks and/or sites of the week
Help us Grow! Forward this email newsletter to a friend or family member - and have them sign-up for InfoAve Premium here!
Get our free daily newsletter! Each evening we send a short newsletter with a tip or trick or a computer-related article - it's short and sweet - and free. Sign-up right now.
Have a question about a Cloudeight Software program, service, stationery, or need to ask about an order? Let us know!
If you need help with one of our software programs, have a question about an order, or have a question about any of our email stationery, screensavers, or other products - please don't use our InfoAve Questions/Answers/Tips form. Use our general Cloudeight support form instead.
Print our Cloudeight Direct Flyer and spread the word about our computer repair service! If you want to help us by telling your friends about our Cloudeight Direct Computer Care service, you can download a printable flyer you can hand out or post on bulletin boards, etc. Get the printable PDF Cloudeight Direct Computer Care flyer here.


These products and services are recommended and endorsed by Cloudeight:
Also... don't forget:

We'd love to hear from you!
If you have comments, questions, a tip, trick, a freeware pick, or just want to tell us off for something,
let us know
.
If you need to change your newsletter subscription address, please see "Manage your subscription" at the very bottom of your newsletter.
We received hundreds of questions for possible use in IA news. Please keep in mind we cannot answer all general computer questions. We try to personally answer as many as we can. We can only use a few to in each week's newsletter, so keep this in mind. If you have a support question about a service or product we sell,
please contact us here
.

Subscribe to our Daily Newsletter!
Get computer tips & tricks every night. Our daily newsletter features a computer tip/trick or two every day. We send it out every night around 9 PM Eastern Time (USA). It's short and sweet, easy-to-read, and FREE.
Just visit this page and sign-up
. All you have to enter is your email address. Once you confirm your subscription, you'll receive our daily newsletter every day, six days a week. You can unsubscribe at any time.
Print our Cloudeight Direct Computer Care Flyer!
Print our Cloudeight Direct Computer Care Flyer
and spread the word about our Cloudeight Direct Computer Care repair services.
Get our ready-to-print flyer here.

We hope you have enjoyed this issue of InfoAve Premium. Thanks so much for your support and for being a Premium subscriber.
Have a great weekend.
Darcy & TC
Cloudeight InfoAve Premium - Issue #819
Volume 16 Number 35
June 21, 2019
Not a subscriber?
Subscribe to our InfoAve Premium Newsletter
Share Us on Facebook!
We'd love for you to share us with your family and friends on Facebook. Help us by sharing us on Facebook!


"Cloudeight InfoAve Premium" newsletter is published by:
Cloudeight Internet LLC
PO Box 73
Middleville, Michigan USA 49333-0073
Read our disclaimer
about the tips, tricks, answers, site picks and freeware picks featured in this newsletter.
Copyright ©2019 by Cloudeight Internet