The end of Windows 7 is coming on January 14, 2020. Using Windows 7 after that date may put your computer at risk as Microsoft will no longer be sending security updates and fixes for it.
Whether you upgrade your Windows 7 to Windows 10 (still free) or buy a new Windows 10 computer, we can make you feel right at home on Windows 10 with our Windows Transformation service. We can make your Windows 10 look like this:


Alternate Way to Shut Down, Restart, and Sign-Out of Windows
Windows 7, Windows 8.1 and Windows 10
We recently were working on a Windows 10 computer that had a problem with the taskbar; it was not showing. In order to fix it, we needed to restart the computer. Since the start button was not visible we used this old trick to restart the computer.
Hold down the Windows Key and tap the "D" key to restore the desktop. Then hold down the ALT key and tap the F4 key. You'll see this Windows dialog from which you can choose:
Switch user
Sign out
Sleep
Shut down
Restart


And if you are using Windows 10 and you have an update pending, you'll also see options to "Update & restart" and "Update and shut down".
And yes, there are other ways to shut down and/or restart when you can't access the start button, but none as easy or as robust as this way.

Two Quick and Easy Tips
Windows 10 (the Gmail tip can be used on any version of Windows)
It may not be Saturday when you read this, but it was Saturday when we wrote this. And what's better on a laid-back Saturday night than a couple of easy peasy and quick computer tips? Well, honestly, probably a lot of things. But we're not going to get into that.
We just wanted something quick and useful. for you so we put our heads together and came up with these two quickies – one for Windows 10 and one for Gmail – that we think you'll like and, more importantly, that we think you'll use.
Tip #1: A Windows 10 Quiz: What is the fastest way to open the following Windows 10 features:
Device Manager
Disk Management
Network connections
Computer Management
System
Mobility Center
Apps & Features
Here's the answer: Hold down the Windows Key and tap the X key.
(You can also right-click the Windows 10 Start button).
---
Tip #2: Get a List of Gmail Shortcuts In a Jiffy
Did you know if you log in to your Gmail account then press the SHIFT key + ? (the SHIFT key plus the question mark key) and you'll instantly get a page of Gmail shortcuts.
You can. Try it!
See? You'll get a scrollable list of shortcuts that can make your Gmailing more productive.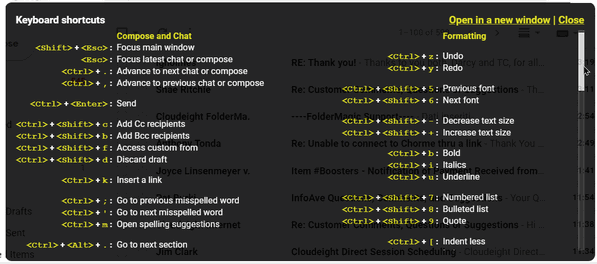 There you go. Two Quick and easy peasy tips for you to try this weekend - or whenever you want!



How to Sort Bookmarks in Chrome and Firefox
Windows 7, Windows 8x, Windows 10 (any version) and Chrome and/or Firefox installed
Chrome tip: How to put Chrome bookmarks in order by name
1. Open Chrome
2. Click on the Menu icon in the top right corner… (3 vertical dots)
3. In the Menu which appears — click Bookmarks ==> then Bookmark Manager.
4. Highlight the folder (on the left) you want to organize.
5. Above your Bookmarks, on the right, click the 3-vertical dot icon to Organize your bookmarks.

6. Click Sort by name.
Your bookmarks will be sorted in order by name.
Firefox tip: How to sort your Firefox bookmarks in alphabetical order
1. Open Firefox
2. If you don't see a toolbar at the top of Firefox press the ALT key
3. From the toolbar, choose "Bookmarks" then "Show all bookmarks"
4. When the Bookmarks library dialog opens, click on the bookmarks folder you want to organize to open it.
5. Click on the arrow to the right of Views and choose "Sort" from the dropdown menu
6. Choose "Sort" then "Sort by Name" and "A – Z Sort order" (See screenshot below.)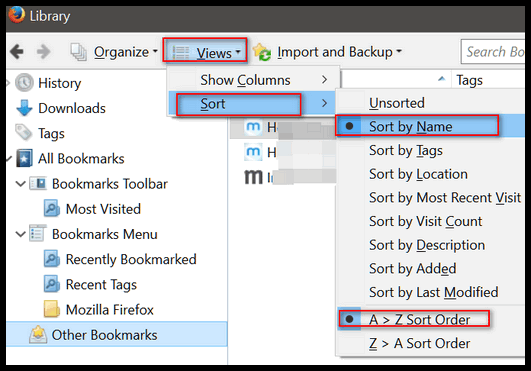 We hope this helps you get organized!



Windows10 Acrylic Effect (Or the Saga of the Blurry Lock Screen)
Windows 10 (version 1809 and newer)
We've had a lot of emails from people who are wondering why the picture on the Windows 10 Login screen is blurry. This is called the "Acrylic effect" and it's supposed to make Windows cooler. But many of you don't agree and find the blurred login screen background annoying because it looks like something's wrong with your PC, but it's just Windows trying to be cool.
Here's my login screen with the "Acrylic effect" – in other words, a blurry background picture.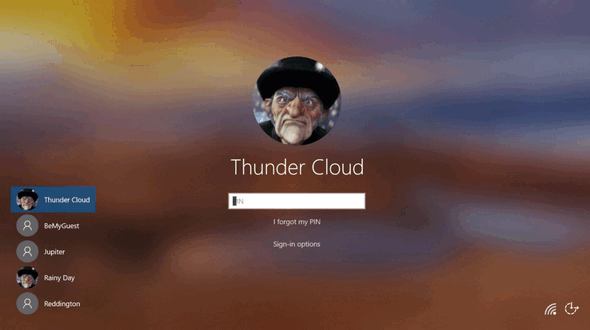 If you'd you like to turn off the Acrylic effect and have a clear background picture on your login screen here's what you need to do.
1.) Right-click on an empty area of your desktop and choose "Personalize".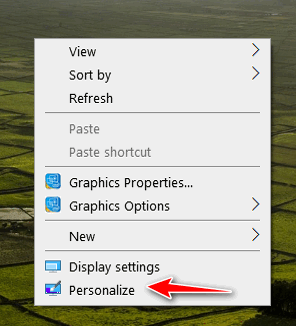 2.) Personalization settings will open. Click on "Colors" in the menu on the left side.
3.) Turn "Transparency effects" Off and close "Settings"
4.) To check your Login Screen, hold down the Windows key and tap the L key. Click the Lock screen and you'll see your Login screen. You'll see that the background picture on the Login screen is not blurred. No Acrylic effect.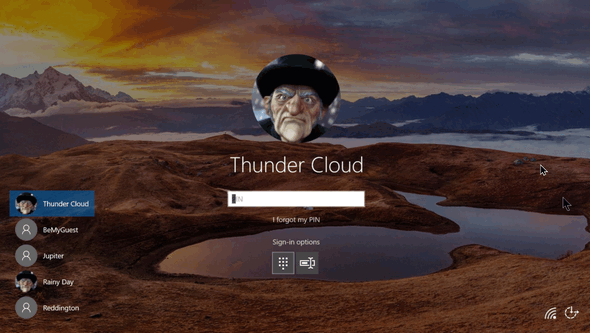 If you ever want the Acrylic effect back, just turn Transparency effects back on.





Want more computer tips & tricks?
How to schedule an email to be sent any time you want it sent in Gmail
A Guide to New Windows Update Settings for Windows 10 Home Version 1903
We have thousands of Windows tips, tricks and more on our InfoAve web site. Come see for yourself!



Emsisoft One-Year License with Free Cloudeight Installation, Setup & MORE!
Some of you are still not using Emsisoft. So, today, we're making you an offer you can't refuse! If you're not yet using Emsisoft, here's your chance to get the best protection you can buy and we'll install it and set it up for you FREE.
Buy a one-year Emsisoft License from this page and get everything listed below:
Removal of your current antivirus.
Double-scanning of your PC for hidden malware
Installation and setup of Emsisoft
One-year license for Emsisoft
Configuration of Emsisoft for best protection
Visit our Emsisoft page and get everything listed for just $29.99
Isn't it time you switched to Emsisoft?


Puran File Recovery: A Cloudeight Freeware Pick
Most Windows users know that when you delete a file it's not really erased. Windows does a little sleight-of-hand and marks the space occupied by the deleted file as free space – and therefore available for Windows to use. So, even when you empty the recycle bin, nothing is really deleted. A deleted file remains recoverable for quite a while – much to the chagrin of criminals who think deleting files or even formatting a drive is going to keep their clandestine computer activities from the prying eyes of the authorities. But this bane of the criminal works to your benefit should you accidentally delete a file or an entire folder of files. If you act reasonably quickly, almost anything you delete is recoverable. The more time that passes the less chance you have of recovering deleted files.
A while back we recommended Recuva for recovery accidentally deleted files. But since then, Piriform, the maker of Recuva has been purchased by Avast and with the goings-on with Avast, for instance, the games they've played with CCleaner – another Piriform product, we're not apt to recommend anything made by Piriform/Avast anymore.
We found an excellent free file recovery program called "Puran File Recovery". It can recover deleted files from any storage media including hard drives, external drives, flash drives, camera cards, smartphones, etc.
While not difficult to use, Puran File Recovery has a lot of options and ways to recover files so we strongly recommend you take a look at the excellent help files that come with Puran File Recovery (just click the ? on the right side of the title bar.
It's really a great program and it is very robust; it can do almost any type of file recovery you would want or need to do, including recovering data from formatted drives.
Here are some screenshots from our testing of Puran File Recovery

Above: Locate deleted image files and preview them in Puran File Recovery


Above: Scan any drive connected to your PC including flash drives, camera cards, smartphones, and external drives.

Above: You can search for certain file types – or use wild cards or search by file name.

Above: Select the file or files you want to recover and click the "Recover" button.
While Puran File Recovery is a great free recovery program and the installer is free of 3rd-party programs, malware and PUPs, for some reason, the developer decided to play games with the download buttons and links. It's nearly impossible to download the program from the developer's site without accidentally clicking on an advertisement — which could lead to you installing malware — or going around in circles trying to avoid clicking the wrong button or link
Luckily, SnapFiles saves the day again with an easy to find the download link and also providing a nice review of the program.. So, if you want to read more about Puran File Recovery and/or download it without playing whack-a-mole with download buttons, please visit this SnapFiles page.
Puran File Recovery works on Windows 7, Windows 8x, Windows 10 (all versions) and works on 32-bit and 64-bit systems.
For more screenshots and more details about Puran File Recovery, please see our full review here.





Now available: Reg Organizer 8.29

If you purchased or renewed Reg Organizer through Cloudeight within the last 12 months, you're entitled to a free version upgrade to Reg Organizer 8.29.

Save $14 on Reg Organizer right now!

Reg Organizer - A Swiss Army Knife of Windows Tools - Works Great on Windows 10!




A Big Thank You… Again!
Two weeks ago we began our Summer 2019 Donation Drive. Your response has been amazing and more than we could have hoped for – you came through for us again. Without your support things would be much more difficult for us. We want to tell you all that is an amazing and wonderful feeling to know we have friends like you.
We started our small business over 2 decades ago. This year is our 21st anniversary. It's hard to believe that we've been on the Web such a long time. In terms of technology, 21 years is a very, very long time.
When we started, we were just one of tens of thousands of "mom & pop" sites that were popping up all over the Web. In fact, back in those days, the Web was mostly mom & pops sites like Cloudeight. Why? Because there was no real money to be made on the Internet - the Web was more of a curiosity than the necessity it has become.
And, sadly, over the years, we have watched most of those mom and pops sites die as the web became all about the money. The folks that owned these sites and poured their hearts and souls and love into them, abandoned their dreams and walked away. The trail of tears those folks left behind is do long it would circle the globe many times.
We know all this because we have been around so long and we've watched it happen. We have seen the Internet go from a place where people freely shared ideas and software and that was used only by a few of us "nerdy types", to the Internet we know today. The Internet is now an economic dynamo and has become so important that the world, its governments, and its financial institutions could not run without it.
We have watched as big money and big corporations smothered or gobbled up everything on the Web, until today, big money and big business control almost all of it. Small, mom & pops sites like Cloudeight are a very rare and very endangered species.
But we have promised you that we will never go quietly or gently into that good night.
We have fought the good fight. We pull no punches and tell you the truth as we see it. We've butted heads with multi-million-dollar sites that made their fortunes by tricking unsuspecting users into buying their worthless products.
We have exposed dozens of Tech Support and TV scams.
Read the rest of this "thank you" here.




Help Us During our Summer 2019 Donation Drive
When you support us with a small gift, you help us continue our mission to keep you informed, separate the truth from the hyperbole, and help you stay safer online. Plus, our computer tips make your computer easier to use.
Did you know that we provide support to thousands of people? Every week we help dozens of people via email at no charge. The questions and answers you see in our newsletters are from the email answers and help we provide to everyone free of charge.
Thanks to your gifts, we do a lot more than provide this free newsletter. We help you recognize online threats, fight for your online privacy, provide you with the knowledge you need to navigate the Web safely, provide you with suggestions for safe, free software and websites, and help you get more out of your PC.
Please Help us keep up the good fight with a small gift.
Interested in making an automatic monthly gift? Visit this page. Help us keep helping you... and helping you stay safe on the Web.




How to get that window out of the way, the right way

Instead of moving a window to the side or resizing it to see a window that is behind it, just click minimize on the window. It can be found in the upper-right hand corner - it is a minus sign. We notice that a lot of folks drag the window over to the side to see our chat box during Cloudeight Direct Care sessions; it's easier to just minimize the window on top.
Or better yet, just click the icon in the taskbar of the item you that you want on top.





Sales of the following products and services help support our newsletters, websites, and free computer help services we provide.

Cloudeight Direct Computer Care: Single Keys, SeniorPass or Season Tickets - always a great deal. Cloudeight Direct Computer Care is like having PC insurance. Get more information here.

Emsisoft Anti-Malware: Emsisoft is the only Cloudeight endorsed and recommend Windows security program. It provides users with a complete antivirus, antimalware, anti-ransomware, anti-PUPs solution. We offer single Emsisoft licenses and multi-computer licenses at discount prices. Also, we offer our exclusive Emsisoft with Cloudeight installation & setup. Get more information here.

Thunderbird Email Setup: Thunderbird is a great email program that you can use with your Gmail and Outlook.com (Hotmail) webmail accounts as well as with your Internet provider's email. We'll set it up right for you. Our set up includes configuring up to 3 emails accounts and setting up Thunderbird to use stationery (if desired). Our Thunderbird Email Setup Service is always a great deal. For more information visit this page.

Reg Organizer 8.29: Reg Organizer is the Swiss Army Knife of Windows tools. It's far more than just a registry optimizer and cleaner... it's Windows all-in-one toolkit. Helps you keep your computer in tip-top shape and helps solve annoying Windows problems. Reg Organizer works great with Windows 10 too! Get more information about Reg Organizer (and get our special discount prices) here.




Premium Subscribers' Home Page. You'll find the last few weeks of Premium archived on this page.
To change your subscription address, see "Manage your subscription" at the bottom of this newsletter.
Submit your questions, comments, and suggestions for possible inclusion in our newsletters here. This form is for questions, comments, and suggestions for this newsletter. This form is not for product support, stationery questions, or general questions concerning our products or services.
Send us your suggestions and recommendations for future freeware picks and/or sites of the week
Help us Grow! Forward this email newsletter to a friend or family member - and have them sign-up for InfoAve Premium here!
Get our free daily newsletter! Each evening we send a short newsletter with a tip or trick or a computer-related article - it's short and sweet - and free. Sign-up right now.
Have a question about a Cloudeight Software program, service, stationery, or need to ask about an order? Let us know!
If you need help with one of our software programs, have a question about an order, or have a question about any of our email stationery, screensavers, or other products - please don't use our InfoAve Questions/Answers/Tips form. Use our general Cloudeight support form instead.
Print our Cloudeight Direct Flyer and spread the word about our computer repair service! If you want to help us by telling your friends about our Cloudeight Direct Computer Care service, you can download a printable flyer you can hand out or post on bulletin boards, etc. Get the printable PDF Cloudeight Direct Computer Care flyer here.


These products and services are recommended and endorsed by Cloudeight:
Also... don't forget:

We'd love to hear from you!
If you have comments, questions, a tip, trick, a freeware pick, or just want to tell us off for something,
let us know
.
If you need to change your newsletter subscription address, please see "Manage your subscription" at the very bottom of your newsletter.
We received hundreds of questions for possible use in IA news. Please keep in mind we cannot answer all general computer questions. We try to personally answer as many as we can. We can only use a few to in each week's newsletter, so keep this in mind. If you have a support question about a service or product we sell,
please contact us here
.

Subscribe to our Daily Newsletter!
Get computer tips & tricks every night. Our daily newsletter features a computer tip/trick or two every day. We send it out every night around 9 PM Eastern Time (USA). It's short and sweet, easy-to-read, and FREE.
Just visit this page and sign-up
. All you have to enter is your email address. Once you confirm your subscription, you'll receive our daily newsletter every day, six days a week. You can unsubscribe at any time.
Print our Cloudeight Direct Computer Care Flyer!
Print our Cloudeight Direct Computer Care Flyer
and spread the word about our Cloudeight Direct Computer Care repair services.
Get our ready-to-print flyer here.

We hope you have enjoyed this issue of InfoAve Premium. Thanks so much for your support and for being a Premium subscriber.
Have a great weekend.
Darcy & TC
Cloudeight InfoAve Premium - Issue #822
Volume 16 Number 38
July 12, 2019
Not a subscriber?
Subscribe to our InfoAve Premium Newsletter
Share Us on Facebook!
We'd love for you to share us with your family and friends on Facebook. Help us by sharing us on Facebook!


"Cloudeight InfoAve Premium" newsletter is published by:
Cloudeight Internet LLC
PO Box 73
Middleville, Michigan USA 49333-0073
Read our disclaimer
about the tips, tricks, answers, site picks and freeware picks featured in this newsletter.
Copyright ©2019 by Cloudeight Internet