Cloudeight InfoAve Premium
Issue #827
Volume 16 Number 43
August 16, 2019

Dear Friends,

Welcome to Cloudeight InfoAve Premium issue #827. Thank you very much for subscribing and for being a part of our Cloudeight family. We appreciate your friendship and support very much!





Help us by sharing us on your Facebook page!

Do you use Facebook? If you have a Facebook page, please help us by sharing us on Facebook. You can help us by sharing one of our articles or pages. You can also help us by sharing over 4000 computer tips and tricks on our InfoAve web site at http://thundercloud.net/infoave/new/ or our Facebook page at https://facebook.com/cloud8internet. If you have used our products and services and are pleased, mention us on your Facebook page. Thanks so much for your help!



Microsoft will end support for Windows 7 on January 14, 2020. Using Windows 7 after that date may put your computer at risk as Microsoft will no longer be releasing security updates and fixes for it. Now's the time to upgrade to Windows 10!
We can make your Windows 10 computer look and work more like Windows 7!
Whether you upgrade your Windows 7 to Windows 10 (still free) or buy a new Windows 10 computer, we can make you feel right at home on Windows 10 with our Windows Transformation service. We can make your Windows 10 look like this:
Above: Windows 10 or Windows 7?

It's a Windows 10 computer but it looks very much like a Windows 7 computer doesn't it?
With our Windows 10 Transformation service, we will:
Change the start menu back to Windows 7 classic style and include your favorite programs
Change your taskbar and start menu colors to your preferences
Add an authentic Windows 7 start button
Add Windows 7 Wallpaper (if desired)
Change Windows 10 File Explorer so it works more like Windows 7's Windows Explorer
Add My Computer -- and other familiar Windows 7 icons -- to your desktop (if desired)
We'll even assist you with getting the upgrade to Windows 10 started if requested.
Get more information or purchase your "Transformation" now. The Windows 10 Transformation service key never expires it's good until you use it. So get yours now!




A comment from Linda (from our Facebook page)
Cloudeight is the best information newsletter I have ever read. Everything is easy to understand and I have been a faithful follower for years and they have always answered all my questions. Give it a try, it's free!.

A comment from Jennifer
Thank you, Darcy. You made my annoying SLOW new computer lightning fast. In fact, I can't believe how fast it is. Thank you for doing all the extra things you did. This is my first experience with your repair service, and I'm telling all my friends about Cloudeight! Great job, Darcy! Jennifer

A comment from Gerri
I just used Cloudeight Direct Care for the first time last week. I was amazed and happily surprised. Darcy connected to my computer and cleaned it up. Then she suggested several changes and I told her to go ahead and use her best judgment. Darcy made the changes that she suggested. I am more than pleased and so happy to have found some honest people that I can trust with my computers. Thank you Darcy! I am be telling all my friends about your computer support. Gerri

A comment from Arlene
TC worked on my computer and he was so patient with me! I really appreciate all the help I received. I'm so thankful for Cloudeight. Thank you, TC, for all the things you did for me!

A comment from Joy (Commenting on this InfoAve article)
TC & Darcy, THANK YOU---you read my mind! I have been unsuccessfully trying to install the updated Windows 10 version 1903 getting the message about outdated drivers. I followed the prompts and nothing worked. I did not know what to do, and then I read the InfoAve Daily email from you. Your timing was spot on! I followed your steps and voila! Now I am updated!!

I have been a follower of Cloudeight for 15-20 years and your knowledge continues to amaze me. I subscribe, I've used your keys and services and tell anyone who is in need of computer help to check out your site. I cannot sing your praises high enough. Your knowledge, integrity and consistency are unparalleled. Thank you again.
A big Cloudeight "Thank you!" to Linda, Jennifer, Gerri, Arlene, Joy and everyone else who took time out to write to us, share a comment and/or share us on Facebook! We appreciate your kind words and your support very much! EB & TC.



Your Purchase Helps Us!
When you purchase any Cloudeight Direct Computer Care Service, you get the best computer care and repair, at the lowest possible price. Plus, each Cloudeight Direct Computer Care service you purchase goes a long way in helping to support our small business.

Your computer fixed - while you watch!
With our Cloudeight Computer Care, we'll fix your computer while you watch. You'll be getting the best computer repair service available, at the best price, from people you trust. Our Cloudeight Direct Computer Care single repair keys are a great deal. They are good until you use them.

For more information see our Cloudeight Direct Computer Care home page!






Here are some important links for you:





Larry wants to know if the update notifications he's seeing are real or a scam
Hey, I have been getting these notices telling me that the current version of the April Windows 10 ends in November, do I want to restart now, restart tomorrow, or set a date to restart. I didn't know which was true because it came up as a little box in the corner like so many notices do. Is this true, or is this just a scam. When I check my settings, it says that my version of Windows 10 is as it should be. Just wondered if this is true or something just going around, I selected that I would pick another date besides right now or tomorrow, Is there anything I should do?

Our answer
Hi Larry, Those are real notifications. Not sure what you mean by your version of Windows 10 is as it should be. The current version of Windows 10 is Version 1903. You can tell what version of Windows you have this way: Type WINVER into the taskbar search and press Enter.

If your version of Windows 10 is version 1803, you should keep in mind that Windows 10's (1803) End-of-servicing date is November 12, 2019. That means after November 12, 2019, those using Windows 10 version 1803 will no longer receive updates. So, you still have time to upgrade to the current version of Windows 10.

From what we've seen it looks like most of the kinks and bugs have been worked out of Version 1903 (May 2019 Update) so, you shouldn't have any problems with it. Keep in mind the update can take 45 minutes to several hours. So, it would be best to do it when you aren't going to be using your PC.



Bert wants to know what do to if Windows 10 won't boot
After an update recently it took my computer a long time to boot up. After nearly 2 hours it booted up and everything is now working fine.

My question is what advice do you have if a Windows 10 computer won't boot at all? After my recent experience, I want to make sure I know beforehand what to do if Windows 10 won't boot up at all.

Our answer
Hi Bert. There are a number of things you can do to if Windows 10 fails to boot. We'll try to cover them all for you here.

Windows 10 has the Windows Recovery Environment (Windows RE), which gives you essential tools for troubleshooting issues and repairing startup problems.

After two unsuccessful startups, Windows 10 should automatically boot up the third time into the Windows 10 RE (Recovery Environment) Advanced Options menu.

If it doesn't you can also restart your computer while holding down the Shift key to bring up the Advanced Options menu. We have had many people report they've started their computer holding down the Shift key and got to the Advanced Boot Menu and it worked perfectly for them.

You can also start Windows RE from a Windows 10 installation DVD or USB, from a recovery drive (which you can make yourself — see this page), or from the recovery partition on a device, if that option is available.

When you are having problems starting up Windows 10 or if you want to do troubleshooting, System Restore, etc., you can open the Advanced Options menu manually by restarting your computer while holding down the Shift key.

The initial choice in the "Choose an option menu" is an option that allows you to click Continue to start Windows without taking any further action. This is the option to choose if your system automatically booted into Windows RE (Recovery Environment) because of a minor issue that doesn't need repair. If you click "Troubleshoot" in the Choose an option menu, you'll see options similar to those below:




If you click on Advanced Options (above), you'll see the following menu: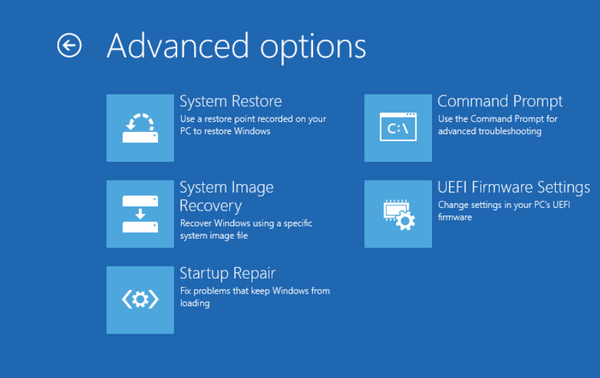 That's it. Bert. Now you have a pretty good idea of what your options are if Windows 10 won't boot normally.
------
Bert wrote back: "This is great information! TC & Darcy come through again. Thanks much. Bert"





Mike's laptop screen went from landscape to portrait mode
I have a touchscreen laptop and somehow I touched somewhere on the touchscreen and now my screen is now in portrait mode instead of landscape. I can't find out how to get it back to landscape. How can I change my screen back from portrait to landscape? HELP!

Our answer
Hi Mike. It's called screen rotation - it's a feature of your video card. I don't know what brand of PC you have, but generally, you can change the screen orientation by using the CTRL+ALT+ an arrow key.

CTRL+ALT+Right Arrow would put your screen back to Landscape mode. CTRL+ALT+Up Arrow would put your screen in Portrait mode.

Hope this helps you, Mike.
------------
Mike wrote back: "THANKS so much! It worked! I was going crazy trying to use my laptop. You guys are the greatest! Thank again, Mike."



Walt wants to know where "Neat Office" installs
Installed Neat Office, seems OK. I cannot find where it was installed to. The App indicates it is 884Mb Where am I going wrong. Not on Add/Remove, works when disconnected from the Internet, does appear in Tree Size, searched the complete C drive with keywords, and showed system files. stumped. No doubt there is an easy answer. Greetings from Scotland. Regards. Thanks. Walt.

Our answer
Hi Walt. Neat Office is an "app" you download from the Windows Store and installed to the same folder as all other Windows Store apps.

All Windows Store apps install to C:\Program Files\WindowsApps. This is a hidden folder and a system protected folder.

To see the folder at C:\Program Files\WindowsApps you have to unhide hidden folders in File Explorer / View / Options / Change folder and search options. If you try to open that folder you'll be blocked by Windows security settings. You can access it changing its security settings or by taking ownership of the folder.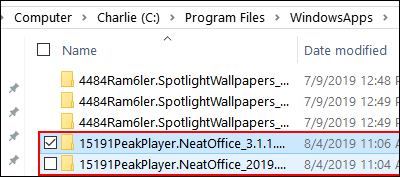 Note: The app names in WindowsApps are not always the same as the app. For instance, Spotlight Wallpaper is 4484Ram6ler.SpotlightWallpapers... and 15191PeakPlayerNeatOffice.... is Neat Office.

You can uninstall Neat Office from Settings > Apps > Apps & Features.

Mystery solved.
-------
For inquiring minds, we recently featured Neat Office as a freeware pick. If you missed it and want to learn more see our post here.



Jerry asks if it's supposed to take hours to upgrade to Windows 10 Version 1903
Whew, I just spent the whole day installing Win 10 Version 1903 on my desktop and laptop. I started at 8 am and it did not finish till about 3 pm. The laptop went quicker, by about 2 hours. Is it supposed to take that LONG? I have 2 more laptops that need it. Jerry.

Our answer
Hi Jerry. It varies greatly from one computer to another. It depends on a lot of variables including your Internet connection. Darcy's update took several hours and she thought it messed up her computer, but she walked and away and checked back after several hours and the update completed and all was well.

TC updated both of his laptops. Each laptop took about 2 hours.

From what we've seen, it can take as little as an hour or as much as five hours. There doesn't seem to be any rhyme or reason to it. And there's no way to predict how long it will take.

Our best advice is to be patient and expect that it will take longer than you think it will and if it doesn't, then you'll be pleasantly surprised.



Sandy has a question about our tip on how to fix updates that fail due to Intel RST drivers
Your tip on the Intel RST Drivers preventing Windows 10 Version 1903 from installing. First, I still haven't received Windows 10 Version 1903. Is it recommended I continue to wait or should I download it? Second, should I do this RST Driver load now? I have no idea if I will have this problem. Can I do the RST Driver download per your instructions without doing any damage if my computer doesn't have this problem? I'm wondering if I should just perform the steps in your tip, do the RST driver and download Windows Version 1903. Or should I just leave everything as is and see what happens if and when I finally get the Version 1903 download?

Our answer
Hi Sandy. Unless your update fails and you see the Intel RST message, there's no reason to install the drivers. I have 2 laptops, one is 4 years-old and one is 7-years-old and both of them have been updated to version 1903. I never updated the Intel RST drivers on either of mine. So our advice is don't update the Intel RST unless you have to.

Windows 10 Version 1903 (May 2019 Update) is over 3 months old and it's as safe to install as it's ever going to get. No one can make any guarantees but we've not seen very many problems with it. So you can install Version 1903 whenever you're ready by going to this page and clicking the blue "Update now" button.



Grace wants to know if there's an easy way to back up her Outlook.com email
You told us an easy way to back up our Gmail. Is there an easy way to back up our Outlook.com mail?

Our answer
Hi Grace. UpSafe, the same company that makes the Gmail backup - the one we featured here - also makes an Outlook backup. You can read more about UpSafe's Outlook.com email backup from this page.

We hope this is what you're looking for, Grace.
------
Grace wrote back: "Hi TC. Thank you for the e-mail back-up sites. Yes, it is exactly what I was looking for. I found the article on your newsletter Friday. Work great & quite easy to navigate. I am pleased knowing I now won't lose important e-mails. For your information, your newsletter is great. There isn't a one that I don't find several helpful tips. Sincerely, Grace H."



Margaret has many questions before updating to Windows 10 from Windows 7
Since I plan to have you install Windows 10 and make it look like Windows 7, I am concerned about several issues that I presently have. I will list them below, but if it is too cumbersome just let me know. Thank you.

Will I be able to use my HP Envy 4520 Printer, Photosmart Camera, Fellows Neato Media Face 11, Irfanview.

Since I am a senior and use the computer occasionally, I do play two games Mahjong Titals and Solitaire

Does Windows 10 have Windows Defender and Microsoft Word

Will the desktop icons I have presently be the same with Windows 10

Will I be able to change the color of the desktop background and add a picture of my husband like it is now

I heard of the browser is Edge and someone recommended DuckDuckGo as it is more secure

Also, will there be an extra charge for Thunderbird to use as my e-mail program

My final question is how do I pay for you to install Windows 10. I understand there is a cost of $35 and I do have a credit card

Again, thank you for taking the time to look at these questions and I would appreciate any and all help you can provide.

Our answer
Hi Margaret. We cannot guarantee all your programs will work with Windows 10. As a general rule, anything that works with Windows 7 will work with Windows 10 - however there are literally millions of programs and we cannot possibly be familiar with all of them.

Your printer most certainly work, although there's a slight chance you may have to reinstall it. Irfanview works very well, we use it every day on Windows 10. We don't know anything about Photosmart Camera or Fellows Neato Media Face 11. So we can't tell you if they will work with Windows 10 - although there's a good chance they will if they work with Windows 7.

Windows 7 games do not work in Windows 10 - Windows 10 has alternate games and more can be downloaded free from the Microsoft Store. There are some workarounds but we no longer recommend them since every time Windows 10 has version update (twice each year) the Windows 7 games stop working - and it's time for another workaround.

Windows 10 icons look just like Windows 7 icons. You can use any desktop background color and you can use any wallpaper or desktop image you want. It's very much like Windows 7 in that regard.
Edge is the default browser on new Windows 10 installations. But if you're currently using another browser, it will continue to be your default. You can use any browser you want in Windows 10 and make almost any browser the default.
DuckDuckGo is a search engine that promises it does not track the sites you visit or store any personal information about you. It's a search engine that can be used with any browser. It doesn't matter what version of Windows you are using. Apple, Linux, and Chromebook users can use DuckDuckGo search if they choose.
Windows 10 has Windows Defender. If you have Microsoft Word installed on Windows 7, it will work on Windows 10. Microsoft Word does not come with Windows 10.

If you have Thunderbird installed on Windows 7, you won't need to reinstall it when you upgrade to Windows 10. It will still be there and all your mail will be just like it is in Windows 7.

Our Windows 10 Transformation service is $35 and includes us starting the upgrade and then when it's done we will come back to make your Windows 10 computer and work more like Windows 7.

You can purchase our Windows 10 Transformation package here.

If you have any other questions, please let us know.




Includes "Anytime Repair" with Our Unattended Support Feature!

SeniorPass: A Great Deal for Our Friends 60 and Older!

With our Cloudeight Direct Computer Care SeniorPass, our friends age 60 and older get one full year of unlimited computer care and repair for one low price. With our SeniorPass you'll get the best computer care anywhere - any time you need it!

SeniorPass is valid for unlimited computer care & repair sessions for one full year starting with the first time you use it. The clock does not start ticking until you use your SeniorPass for the first time. A great deal!

Having SeniorPass is just like having insurance for your computer. You'll get one full year of computer care and get help with almost any computer problem whenever you need it. We're here to help you.

Computer care & repair for one full year just $99! Check out our SeniorPass offer right now!

Get your SeniorPass and/or get more information here.




How to Prevent a Problematic Windows Update From Reinstalling in Windows 10
Windows 10 (all versions)
In Windows 10, your PC or device is always kept up to date with the latest features and fixes. And it's important that you keep your Windows computer updated. Most Windows Updates are installed automatically and Windows 10 Home users have only limited options to choose which updates they want or don't want to install.

We are all aware by now that sometimes a Windows 10 update can cause problems with your PC. In this case, you'll need a way to prevent the problematic update from reinstalling automatically the next time Windows Updates are installed.

If an update is causing system crashes, problems or instability on your PC, you can follow the instructions below, to prevent the unwanted update from being installed:

To uninstall an update, open "Settings" > "Update & Security" > "View update history".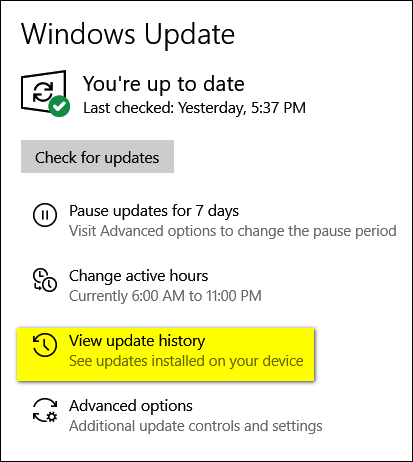 Now, you're all set until the next time Windows updates, and reinstalls the update you just uninstalled. So, you have more to do if you want to prevent Windows from reinstalling that trouble-causing update.
So... If you want to prevent that update from being reinstalled, keep on reading.
To prevent the update from being reinstalled, a troubleshooter is available from Microsoft, that provides a user interface for hiding and showing Windows Updates for Windows 10. You can obtain and run the "Show or hide updates" troubleshooter. Download the "Show or hide updates" troubleshooter package from this link.

When you click on the download link, you will be prompted to open or save wushowhide.diagcab. Save it to your PC, and click to run it.
Opening wushowhide.diagcab will launch the troubleshooter. Then click Next to proceed and follow the instructions provided by the troubleshooter to hide the problematic driver or update.

When the program starts to run, you'll see it scanning your computer for updates. When it's done you'll see a window like this one.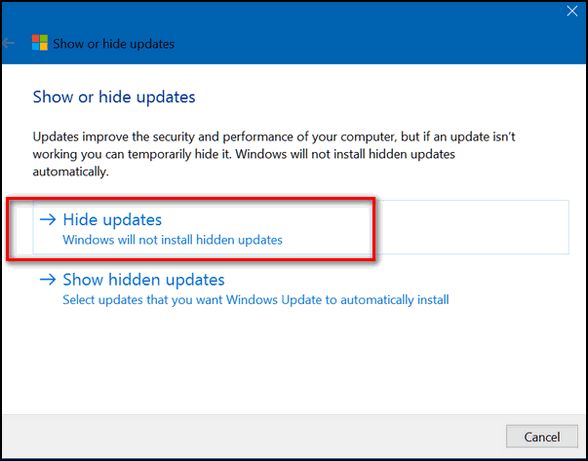 Click on "Hide updates"
Windows will display all pending updates.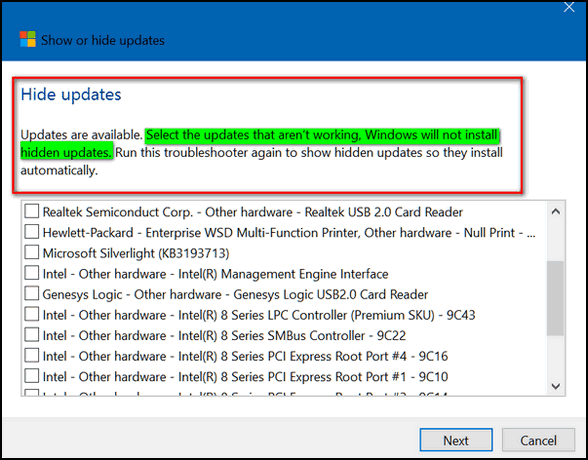 Select the update or updates that are causing you problems. Windows will not reinstall the items you select.



Do You Have 32-bit or 64-bit Windows?
Windows 10 (all versions)
If you're not sure if you're running 64-bit or 32-bit Windows, here's a really quick way to find out:
Type About in the taskbar search and press Enter. It's right there under "Device specifications". See?
And most of you know by now there's always more than one way to do things in Windows. Here are more ways to find out if you're using 32-bit or 64-bit Windows.
Press & hold down the Windows Key and tap the Pause/Break key This brings up system properties - and your System type is right there. If you can't find the Pause/Break key, it's usually on the top row of the keyboard right next to the Print Screen (Prnt Scrn, Prt Scr) key.

You can also find your system type by pressing the Windows Key+R , typeMSINFO32 into the Run box and press Enter.
Another way to find it is to open the Control Panel (type Control in the taskbar search & press Enter). In the Control Panel change the view to "Large icons" and click on "System".
Now you know several ways to find out if you have 32-bit or 64-bit Windows 10.



How to Back Up the Windows Registry
Windows 7, Windows 8x and Windows 10
We try to stress the importance of keeping your computer backed up. It's the only way to protect your precious data and irreplaceable personal files. As most of you know there are dozens of ways your data is at risk. So, we know you're all keeping good backups, right?
Today, though, we're going to talk about something we don't harp on.. and that is: Backing up the Windows Registry. You've probably noticed that whenever we feature a tip that that includes editing the registry we always tell you to back up your registry first(or create a restore point). But, we have not shown you how to back up the registry. So, today we're going to show you how easy it is to back up your registry -- and how easy it is to restore your registry from your registry backup if that should ever become necessary.
Let's back up your Windows Registry:
Press the Windows Key + R
Type REGEDIT in the run box and press Enter
When the Registry Editor opens, right-click on "Computer.
From the menu that appears, click "Export"
Save your registry backup on a flash drive or an external drive. It's not a very good idea to save it to your Windows drive (normally drive C ).
Also, be sure to save it with a name like "registry-backup15august2019". In other words, give it a name that tells you what it is and when it was created.
If you should ever need to restore your registry using your backup, it's easy. Just locate your registry backup file, right-click on it, and choose Merge. Be careful -only do this if you've made changes to the registry (or some program or malware program did) that caused major problems.





A Quick Way to Jump to the Oldest Mail in a Gmail Folder
Everyone who uses Gmail
We had a question this morning from Don, who asked:
"I use Gmail and wonder if there is an easy way to go to the end of my emails and delete many of them which are several years old?"
Questions like Don's give us ideas for tips and tricks. This happens to be something we use quite often. And it's a great tip for those using Gmail who don't already know how to jump to the bottom (oldest email) of your list of emails in any Gmail folder.
You can jump to the oldest emails in your list of email in Gmail with one click.
In your Gmail account. look for "1-50" right above the email list and hover over it until you see a dropdown menu. If you're viewing your newest you'll see "Oldest" in the menu. Click "Oldest" to go to the "bottom" (oldest) of your list of emails.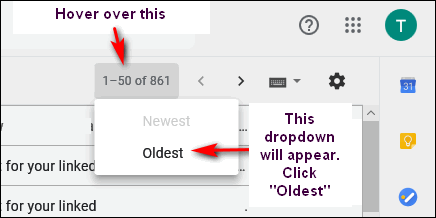 When you're viewing your oldest emails and want to jump back to the top ( newest emails), just hover over the email count and click "Newest".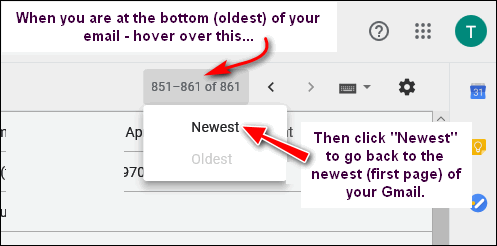 This method works in any folder (Inbox, Sent, All Mail, etc.) And it works no matter how many emails you have in a folder.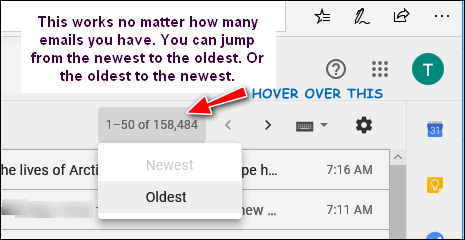 It's Not BlueKeep and It's Not Spreading Yet – But Listen Up!
Windows 10 (all versions)
We have received several emails from folks who have read dire scary warnings that "800 million" Windows 10 computers are vulnerable to BlueKeep. That's simply not true. Here's why: Windows 10 is not vulnerable to BlueKeep, It is, however, vulnerable to two BlueKeep-like "wormable attacks" that can spread from computer to computer.
But the way the articles were written, it made it sound like 800 million Windows 10 computer were on the frontlines of a major wormable attack. This kind of "the-sky-is-falling-journalism" certainly attracts readers and keeps the revenue rolling in, but it doesn't help keep people safer. Panic is always logic's worst enemy.
Sure the vulnerability is real, but it's not spreading yet – not a single computer "in-the-wild" (meaning generally, Windows computers connected to the Internet) has yet been infected, but it's coming – and it's only a matter of time.
There's no need to panic, is you're using Windows 10 you'll get the patches automatically via Windows Update.
It's a good idea to learn all you can about threats that are just over the horizon.
Make sure you keep your Windows 10 computer updated - and take a few minutes to learn more about this upcoming threat.





Want more tips, tricks and information?
Windows 10 File History Backups and Manual Backups

Search Secrets That Will Save You Time
We have thousands of Windows tips, tricks and more on our InfoAve web site. Come see for yourself!
Subscribe to our free InfoAve Daily newsletter.



Emsisoft One-Year License with Free Cloudeight Installation, Setup & MORE!
Some of you are still not using Emsisoft. So, today, we're making you an offer you can't refuse! If you're not yet using Emsisoft, here's your chance to get the best protection you can buy and we'll install it and set it up for you FREE.
Buy a one-year Emsisoft License from this page and get everything listed below:
Removal of your current antivirus.
Double-scanning of your PC for hidden malware
Installation and setup of Emsisoft
One-year license for Emsisoft
Configuration of Emsisoft for best protection
Visit our Emsisoft page and get everything listed for just $29.99
Isn't it time you switched to Emsisoft?


File Converter
There are a lot of websites and a bunch of programs that convert files. But how about a program that converts files right on your own PC in File Explorer/Windows Explorer?
We found a free program called File Converter that converts and compresses many file formats from the right-click menu in File Explorer (Windows Explorer for those of you using Windows 7). All you have to do is install File Converter and when you want to convert a file, right-click on the file to begin converting the file or files.
It couldn't be simpler to use. Just right-click on a file in Windows Explorer/File Explorer, choose File Converter and then choose the format you want to convert your file to. A progress window will open showing the conversion process. The window will close when the file conversion is completed. And… you can even convert several files at a time.
File Converter saves the converted file in the same folder as the original. It keeps the same file name as the original but with the new extension, of course.
Another nice feature of File Converter is that it won't appear in your right-click menu if you right-click on a file type that it does not support.
File Converter can convert audio, image, video, and documents file types. Here's a complete list of file types that File Converter supports:
Supported output formats
Compatible input formats
Audio
flac, aac, ogg, mp3, wav
3gp, aiff, ape, avi, bik, cda, flac, flv, m4a, mkv, mov, mp3, mp4, oga, ogg, wav, webm, wma, wmv
Video
webm, mkv, mp4, ogv, avi, gif
3gp, avi, bik, flv, gif, m4v, mkv, mp4, mpeg, mov, ogv, webm, wmv
Image
png, jpg, ico, webp
bmp, exr, ico, jpg, jpeg, png, psd, svg, tiff, tga, webp, pdf, doc*, docx*, odt*, odp*, ods*, ppt*, pptx*, xls*, xlsx*
Document
pdf
doc*, docx*, odt*, odp*, ods*, ppt*, pptx*, xls*, xlsx*, bmp, exr, ico, jpg, jpeg, png, psd, svg, tiff, tga
* You need to have Microsoft Office installed and activated in order to convert Office documents.
Now how about we let the developer tell you more? Sounds good!
"Description

File Converter is a very simple tool which allows you to convert and compress one or several file(s) using the context menu in windows explorer. And it's FREE!

The interface is designed to be as light as possible to keep the application pleasant to use.

You can heavily customize the application in order to add / remove conversion presets in the files context menus or edit the existing one to change the conversion options.

If you want more informations (sic) about the features offered in File Converter, visit the documentation page.

I hope this application will help you

It is open source (GLP v3), free and without any adds so you just have to enjoy it!..."
File Converter is the kind of program we're always happy to find for you. It's free, functional, and thoughtfully programmed. And, it's from tricks, malware, software bundles, PUPs, and download-link games.
If you're looking for an easy way to convert files, we're pretty sure that File Converter is exactly you've been looking for.
You can read more about and/or download File Converter from this page.
File Converter works on Windows 7, Windows 8x, Windows 10 (all versions). It works on both 32-bit & 64-bit computers. Be sure you download the correct version (32-bit or 64-bit) for your computer.
Happy Converting!





NEW VERSION NOW AVAILABLE!
Reg Organizer 8.30

If you purchased or renewed Reg Organizer through Cloudeight within the last 12 months, you're entitled to a free version upgrade to Reg Organizer 8.30..

Save $14 on Reg Organizer right now!

Reg Organizer - A Swiss Army Knife of Windows Tools - Works Great on Windows 10!






A Brief History of TC and EB
Preface by TC

Darcy (EB) wrote this little story eleven years ago, way back in 2008. Things have changed so much over these past eleven years — but the history is still the same. We hope you all enjoy this little trip back in time to the very beginnings of Cloudeight when EB (Darcy) and I first met. (TC 8/15/2019)
We have had many ask us about how TC and I met and how we developed Cloudeight… so the story begins…

It all started in a land far, far away. well, actually it started in Michigan when I met my friends Orca and Ldy on the old IRC (Internet Relay Chat) Michigan Chat lines. We had a regular room we used to talk in and some time in 1996 TC came snooping around one day.. even though he was not from Michigan! It made him stand out, so naturally, I began chatting to him. He was making a web page and was a newbie, so I took him under my wing, shared all my store of knowledge from the two months I had accumulated, and taught him how to put some images on a page. We started emailing and chatting about new things we were learning, and found that each other were eager to learn all we could! Wow.. a cyber match made in heaven!

OK… on with the story.

One day I was searching the web for something new I had just learned about something called "scripts". I set out to learn them inside out. I was playing around with one of these scripts and it made my picture appear to be scrolling. Wow! Something really cool! I sent it in an email to TC and asked him if he could "see" anything. I was not sure if others could see the scrolling or only I could see it.

He was as excited as I was.. instead of just answering me to say yes or no, I had to wait all day and my answer finally came. He had created a nice graphic of his own (using skills he had obtained from the one and only… !) and had it scrolling away...

Please read the rest of "A Brief History of TC and EB" here.



When you support us with a small gift, you help us continue our mission to keep you informed, separate the truth from the hyperbole, and help you stay safer online. Plus, our computer tips make your computer easier to use.
Did you know that we provide support to thousands of people? Every week we help dozens of people via email at no charge. The questions and answers you see in our newsletters are from the email answers and help we provide to everyone free of charge.
Thanks to your gifts, we do a lot more than provide this free newsletter. We help you recognize online threats, fight for your online privacy, provide you with the knowledge you need to navigate the Web safely, provide you with suggestions for safe, free software and websites, and help you get more out of your PC.
Please Help us keep up the good fight with a small gift.
Interested in making an automatic monthly gift? Visit this page. Help us keep helping you... and helping you stay safe on the Web.






Remember these two simple tips if things start going wrong with your computer

This "Back to Basics" is about as basic as it gets. But you know what? Even advanced users don't always think of these two simple tips when things start going wrong with their PCs.

So, today's "Back to Basics" is to remind you...

If you start having major problems with your computer, don't panic and don't set off searching the Internet for solutions.

The first thing you should do is: Restart your computer.

If that does not fix your problem, the next thing you should do is: Shut down your computer - completely power it off - and leave it off for five minutes. Then turn it back on.

These simple tricks won't fix all your problems, but you'll be surprised how many problems those two tips will solve and how much time those two tips will save you.





Sales of the following products and services help support our newsletters, websites, and free computer help services we provide.

Cloudeight Direct Computer Care: Single Keys, SeniorPass or Season Tickets - always a great deal. Cloudeight Direct Computer Care is like having PC insurance. Get more information here.

Emsisoft Anti-Malware: Emsisoft is the only Cloudeight endorsed and recommend Windows security program. It provides users with a complete antivirus, antimalware, anti-ransomware, anti-PUPs solution. We offer single Emsisoft licenses and multi-computer licenses at discount prices. Also, we offer our exclusive Emsisoft with Cloudeight installation & setup. Get more information here.

Thunderbird Email Setup: Thunderbird is a great email program that you can use with your Gmail and Outlook.com (Hotmail) webmail accounts as well as with your Internet provider's email. We'll set it up correctly you. Our set up includes configuring up to 3 emails accounts and setting up Thunderbird to use stationery (if desired). Our Thunderbird Email Setup Service is always a great deal. For more information visit this page.

Reg Organizer 8.29: Reg Organizer is the Swiss Army Knife of Windows tools. It's far more than just a registry optimizer and cleaner... it's Windows all-in-one toolkit. Helps you keep your computer in tip-top shape and helps solve annoying Windows problems. Reg Organizer works great with Windows 10 too! Get more information about Reg Organizer (and get our special discount prices) here.




Premium Subscribers' Home Page. You'll find the last few weeks of Premium archived on this page.
To change your subscription address, see "Manage your subscription" at the bottom of this newsletter.
Submit your questions, comments, and suggestions for possible inclusion in our newsletters here. This form is for questions, comments, and suggestions for this newsletter. This form is not for product support, stationery questions, or general questions concerning our products or services.
Send us your suggestions and recommendations for future freeware picks and/or sites of the week
Help us Grow! Forward this email newsletter to a friend or family member - and have them sign-up for InfoAve Premium here!
Get our free daily newsletter! Each evening we send a short newsletter with a tip or trick or a computer-related article - it's short and sweet - and free. Sign-up right now.
Have a question about a Cloudeight Software program, service, stationery, or need to ask about an order? Let us know!
If you need help with one of our software programs, have a question about an order, or have a question about any of our email stationery, screensavers, or other products - please don't use our InfoAve Questions/Answers/Tips form. Use our general Cloudeight support form instead.
Print our Cloudeight Direct Flyer and spread the word about our computer repair service! If you want to help us by telling your friends about our Cloudeight Direct Computer Care service, you can download a printable flyer you can hand out or post on bulletin boards, etc. Get the printable PDF Cloudeight Direct Computer Care flyer here.




These products and services are recommended and endorsed by Cloudeight:
Also... don't forget:




We'd love to hear from you!

If you have comments, questions, a tip, trick, a freeware pick, or just want to tell us off for something, let us know.

If you need to change your newsletter subscription address, please see "Manage your subscription" at the very bottom of your newsletter.

We received hundreds of questions for possible use in IA news. Please keep in mind we cannot answer all general computer questions. We try to personally answer as many as we can. We can only use a few to in each week's newsletter, so keep this in mind. If you have a support question about a service or product we sell, please contact us here.





Subscribe to our Daily Newsletter!

Get computer tips & tricks every night. Our daily newsletter features a computer tip/trick or two every day. We send it out every night around 9 PM Eastern Time (USA). It's short and sweet, easy-to-read, and FREE. Just visit this page and sign-up. All you have to enter is your email address. Once you confirm your subscription, you'll receive our daily newsletter every day, six days a week. You can unsubscribe at any time.

Print our Cloudeight Direct Computer Care Flyer!

Print our Cloudeight Direct Computer Care Flyer and spread the word about our Cloudeight Direct Computer Care repair services. Get our ready-to-print flyer here.





We hope you have enjoyed this issue of InfoAve Premium. Thanks so much for your support and for being a Premium subscriber.

Have a great weekend.

Darcy & TC
Cloudeight InfoAve Premium - Issue #827
Volume 16 Number 43
August 16, 2019

Not a subscriber? Subscribe to our InfoAve Premium Newsletter

Share Us on Facebook!
We'd love for you to share us with your family and friends on Facebook. Help us by sharing us on Facebook!






"Cloudeight InfoAve Premium" newsletter is published by:

Cloudeight Internet LLC
PO Box 73
Middleville, Michigan USA 49333-0073

Read our disclaimer about the tips, tricks, answers, site picks and freeware picks featured in this newsletter.

Copyright ©2019 by Cloudeight Internet