Cloudeight InfoAve Premium
Issue #829
Volume 16 Number 45
August 30, 2019

Dear Friends,

Welcome to Cloudeight InfoAve Premium issue #829. Thank you very much for subscribing and for being a part of our Cloudeight family. We appreciate your friendship and support very much!




We wish all of you who celebrate Labor Day Weekend a happy & safe holiday weekend. Every major holiday weekend we publish a review edition. Not only does this provide us with some extra time to spend with family and friends, but it also gives us an opportunity to review some of the best questions, tips, and articles from previous issues of "Cloudeight InfoAve Premium". All articles from past editions are updated when necessary...and we may even sneak in something new in a review edition. We hope you enjoy this special edition of InfoAve Premium.
Have a happy and safe Labor Day weekend!

Cloudeight Direct Computer Care Repair Keys On Sale!


LABOR DAY SALE! THREE REPAIR KEYS JUST $99!
How can it be the unofficial end-of-summer weekend already? Cold days ahead! But during our Labor Day weekend sale, we're giving you a hot price on our Cloudeight Direct Computer Care repair keys. You can help us and help yourself and/or help a friend or family member too! During our Labor Day sale, you can buy three Cloudeight Direct Computer Care Repair Keys for $99! Keep the repair keys for yourself, or keep one for yourself and give the others away, it's up to you. These Cloudeight Direct Computer Care & Repair keys are fully transferable, they don't expire until you use them - so keep them until you need them. Don't miss out on this GREAT DEAL!. Help us, help yourself, and help someone else too!. Cloudeight Direct Computer Care Repair Keys never expire - they are good until you use them! This offer is available through Monday, September 2, 2019.
Get more information and/or get this special offer here!
Offer valid through Monday, September 2, 2019, only.




A comment from Frances
Just wanted to say thank you for all the work you did on my computer. It seems to be working well and I haven't heard that sizzling sound again. Maybe it's good for a little while longer and knowing that you got it to back up, gives me peace of mind. The donation is very small in comparison to all your work. Thank you!

A comment from Peggy
Hi TC, I want to thank you so much for your patience and all you did for me. Again, you came to my rescue and got things sorted out. It was a great learning process for me as I always have to learn things the hard way. This is the third time over the years that either you Darcy have come to fix my computer. This time it was you with your magic wand that got the gremlins out of my PC and got it up and working like new. Thanks a million, Peggy.
A comment from Robert
I am forever sold for these "Computer Angels" of ours. When I signed up for the service, I knew I already had problems with my PC and had been driving me crazy for quite a few days. In short, TC resolved my "Ashampoo Failure(s)". and also that horrible BSOD (Blue Screen of Death - Wdf010000.sys. Although I saw all this "magic" being woven on front of these old eyes, once thought that MSDOS 3.11 was quite a humdinger compare to prior systems. And this was just Day 1 of my SeniorPass purchase for this old coot, now there are about 360 more days to the contract! Robert
A comment from Judy
Darcy and TC, you guys have been the best thing that ever happened to me concerning my computer repairs. And thanks to you both my computer repairs have been few and far between because what you do, you do it so well. You are why I can even afford to have a computer. Because I could not afford to take it in for expensive fixes to my computer messes. The best part, I don't even have to take it in. So convenient and you do amazing work. We love you, I cannot imagine computering without you. Please never grow old, because I need you!

A comment from Frank
We have an elderly neighbor who was just about to begin paying these scammers when he explained the problem to me. It was an easy fix–with Darcy's usual helpfulness–and it just made me wish that they all read your newsletters. My Mom, who just turned 90, introduced me to Cloudeight many years ago and the best testimonial that I can give is that you have kept our computers problem-free in all those years. Cloudeight would have new corporate headquarters, should we ever win the Lotto! Keep fighting the good fight.

A big Cloudeight "Thank you!" to Frances, Peggy, Robert, Judy, Frank and everyone else who took time out to write to us, share a comment and/or share us on Facebook! We appreciate your kind words and your support very much! EB & TC.



Your Purchase Helps Us!
When you purchase any Cloudeight Direct Computer Care Service, you get the best computer care and repair, at the lowest possible price. Plus, each Cloudeight Direct Computer Care service you purchase goes a long way in helping to support our small business.

Your computer fixed - while you watch!
With our Cloudeight Computer Care, we'll fix your computer while you watch. You'll be getting the best computer repair service available, at the best price, from people you trust. Our Cloudeight Direct Computer Care single repair keys are a great deal. They are good until you use them.

For more information see our Cloudeight Direct Computer Care home page!



And during our Labor Day Sale, you can get 3 Cloudeight Direct Computer Care keys for just $99. Sale price is valid through Monday, September 2, 2019. So, get your keys now.




Here are some important links for you:



Mavis wants to know if we still recommend Open Office
I'm looking for a good replacement for Microsoft Office. I don't need office programs very often, but occasionally I need to create or open an Microsoft Office file. Is Open Office still a good alternative for Microsoft Office? Do you still recommend it? Thanks for all you guys do! Mavis T.

Our answer
Hi Mavis. Thanks for your nice comments.

Open Office is still a great office suite and a good choice for those who want a free MS Office alternative. You can open and create Microsoft Office documents using Open Office.

You can download Open Office from here.

Another good Microsoft Office alternative is Libre Office. You can read more about it and/or download it from here.

We hope this helps you, Mavis!
-----
Mavis wrote back: "Thanks so much, TC! Open Office is just what I was looking for. Thanks for all you and Darcy do for everyone."



Bob forgot his router password
I can't remember my wireless router user name and password. What can I do? Please help!.

Our answer
Hi Bob. First thing to do is to find the default username & password for your router make and model. It will be in its manual. If you don't have a manual, go to this site:

http://www.routerpasswords.com/
... and find your router's default password by brand and model number.

You will have to reset the router back to factory settings. All routers have a reset button on the back or bottom. Normally it's quite small. You may need to use a pen or other object to press the reset button. See your routher's manual, or visit the manufacturer's website to find out where the reset button is located on your router.
After you find your router's default username/password. Reset the router and enter the default username and password to access it. After you've regained access, you can then go in and change both the username and password to whatever you want.

If you need any more help, let us know.
--------
Bob wrote back: "Thanks so much for this. I was able to get into my router settings and now have a new password. Thanks again! Bob"



Jill needs help with an HP computer drive partition
Hi Darcy & TC. Please read below and let me know if this is something you can sort out for me if I buy a repair key. My second computer (HP Pavilion Sleekbook 14-116AU14" laptop with 500 GB Hard drive and 8 GB RAM running Windows 10) looks as if it needs its hard drive partitions amended as one is shown to be full and we are getting an error message when trying to update WINDOWS 10. There is a lot of room on the main partition. I have attached screen prints showing the situation.

Many thanks as always for your help. Jill

Our answer
Hi Jill. Thanks! There is nothing to fix. That full partition is the recovery partition HP puts on all computers. It is very small, it is ONLY for the files HP put there, and you should not add files to it. It appears you tried to save files to that partition/drive, so just open it and remove the files you added. That partition is only to be used to restore your computer to its factory state and for HP repair tools to function.
-----
Jill wrote back: "Thank you so much as usual for your help. Somehow a previous Windows 10 update had got itself on to the D drive. Once I received your reply my husband moved it to the C drive and then the new update worked! Thanks again, Jill"



Nora has three questions
I have three questions for you.

1. I sometimes see this pop up. "Catalyst Control Center: Host Application has stopped working" What does that mean?

2. Another pop up "this page wants to install a service handler. Allow mail.google.com to open all email links? " Three choices - allow, deny, ignore. I have it on ignore. What is that and what is the best thing to do?

3. Is it good or bad to have "Hardware Acceleration" enabled in Chrome?

Sorry for the long and probably stupid questions but I am curious and I know you have the answers! Thanks for all your help TC. Regards. Nora

Our answer
Hi Nora. There are no such things as stupid questions except the ones you don't ask. I'll try to answer your questions for you:

1. I sometimes see this pop up. "Catalyst Control Center: Host Application has stopped working" What does that mean?

Catalyst Control Center allows and provides a means for you to change your graphics settings. It's usually associated with AMD processors and AMD Radeon graphics cards. I personally never adjust my graphic settings and I'm not sure how many people actually do.

My computer has Intel graphics and I've only opened the graphics control program on this PC once in 3 years and that was just out of curiosity. If you never change your graphic settings, you should just let it be unless the pop up appears all the time and becomes annoying. You can re-install Catalyst Control Center, or you can try to update your graphics (display) drivers, or if you are not having any problems with your computer's display, you don't have to do anything at all..

2. "this page wants to install a service handler. Allow mail.google.com to open all email links? "

Simply put, this is Gmail's way of asking you if you want to make Gmail to be your default mail program for opening "Mailto" links in emails and web pages. Your choice.

3. Is it good or bad to have "Hardware Acceleration" enabled in Chrome?

Hardware acceleration allows for more efficient processing of specialized graphics - usually 3D graphics. Hardware acceleration uses specialized hardware on the graphics card (the GPU) rather than using the main CPU to process the specialized graphics. It's more efficient and faster to use hardware acceleration. Most "experts" say you hardware acceleration should always be enabled where possible because it results in better performance of whatever application is using it.

I hope this helps you, Nora.
-------
Nora wrote back: "Thanks TC for your very informative and quick reply. I appreciate you taking the time to answer my questions. I know I can count on you to always be there to keep us seniors informed. I love technology and am so curious about all of it and sometimes get lost in all the geek speak but you and EB make it so easy to learn... Regards, Nora"



Jack's spell checking stopped working in Chrome
Good Morning &Happy Monday. If my memory serves me correctly, some time ago you said Google Chrome has a built in spell checker. It was working fine for me, but a week or so ago it disappeared. Is there a way to get it back where ever it may be. "Thank You" for all your help thru the years with Premium Issues and daily updates. I especially appreciate the way you explain things so even a non-geek like me can understand. Again "Thank You"...keep up the good work & take good care of each other...Jack

Our answer
Hi Jack. Thanks so much. Since turning on Spell Checker in settings didn't work for you, then it seems to me you have something installed on your computer that is superseding the built-in spell check in Chrome- for instance a browser extension. Or it could be that your Chrome browser is corrupted and needs to be repaired.

You can try repairing Chrome; just follow the simple instructions on this page.

If that does not work then you'll need to figure out what you installed on your system that is blocking the spell check in chrome - I would guess some kind of spell checking application or extension, but just a guess.

Let me know if you need more help.
----------
Jack wrote back: "Thank you for your help! Repaired Chrome as per your instructions. Back in business. When talking computers with friends I always mention the two of you. They ask if you are really good. My answer is always the same...I simply say "You are the best...bar none." Some you have helped are of the same opinion. Stay healthy & happy & warm. Jack."



Susan wants to know if she needs to use the software that came with her external hard drive
I LOVE your Newsletters! In this day and age of scams and fake news, your Newsletters are so refreshing, offering trustworthy programs and answers to great questions! Thank you EVER so much! My question: I'm running Ashampoo for backup onto a Passport external drive. Is it safe to uninstall WD Backup as well as their toolkit, etc.? I don't see the need for it unless I start having trouble with Ashampoo? Thanks so much, please stay with us, we so need you!! :)

Our answer
Hi Susan. Thank you and thanks for being with us through the years! Yes, the western digital software is completely unnecessary and can be removed.

We are not going anywhere!
------
Susan wrote back: "So good to hear you'll continue to be helping us! Honestly, I don't know where we would all turn to without you. Thank you so much for doing what you do! Thanks for answering my question so quickly, you guys are amazing! Faithfully yours, Sue "



Patricia wants to know if private browsing is good or bad
Hi. Is in-private browsing good or bad? If it's bad-how do I turn it off?

Our answer
Hi Patricia. Private browsing is good for a lot of things - but keeping your IP address private is not one of them. Private browsing (or Incognito mode on Chrome) is not something you turn on or off - it's something you can choose to use or not.

Read our article "Some Things Private Browsing is Good For – Hint: Privacy is not one of them"

Hope this is what you're you are looking for.



Paula wants to know why major Windows 10 Updates disconnect her Internet
It seems every time Windows 10 Updates, it kicks me off the Internet? It seems this happens often any time Windows 10 has a major update. My brother-in-law is computer savvy and has spent a lot of his time trying to help me with this problem.. What can we do to stop this problem? I am using Wi-Fi on this HP Laptop. Thank you for your help, Paula.

Our answer
Hi Paula. It's a known issue with some major Windows updates (mostly version updates) that they can sometimes disrupt your Internet connection. That's why Windows 10 now has a couple of ways to help you fix your connection issues, including an easy way to completely reset Windows networking.

But if this problem happens to you again, before you do anything else, the very first thing you should do is Power Cycle. We have written a easy-to-follow tutorial on Power Cycling. You can read it here.

If Power Cycling does not work, the second thing you should try is the Network troubleshooter. You can find the Network troubleshooter in Settings > Network & Internet > Status > Check your network settings (see screenshot below):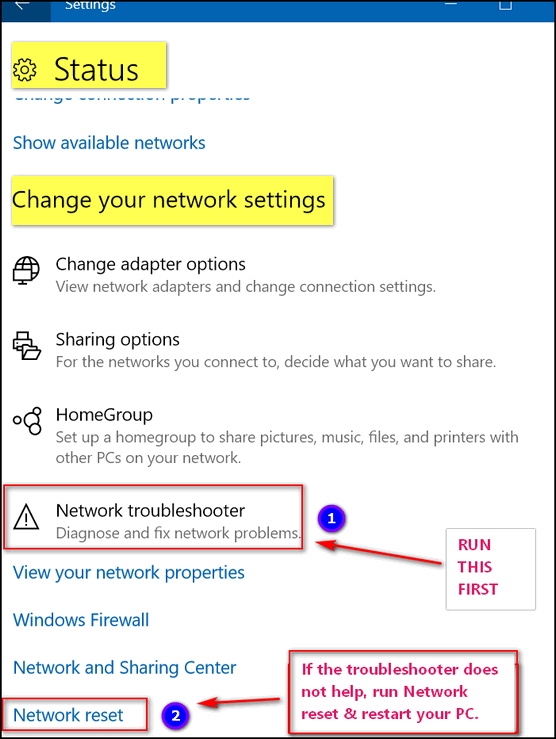 You may have to restart your PC after you run the troubleshooter. If running the troubleshooter does not help, you can completely reset Windows networking components. Again in Network & Internet > Status > Change your network settings ... click on "Network reset", then click the "Reset now" button and follow the onscreen instructions (See screenshot below). Your computer should restart automatically after the reset is complete.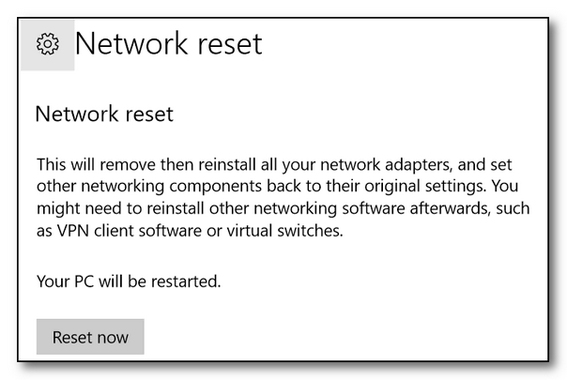 We're pretty sure one of these three options will help you the next time you have a problem with your connection. In many cases we have found that a simple Power cycling is all that is needed... .but Windows 10 gives you a couple of other options that may help you in case Power Cycling doesn't work for you. If you do a network reset make sure you know your Wi-Fi password. If you don't know how to find it, please read our tutorial here.

We hope his helps you, Paula.



Steve wants to know about PC Matic
One of the other newsletters I subscribe to has been pushing PC Matic. I'm skeptical because until recently this same newsletter has been pushing Avast/AVG. What are your thoughts on PC Matic?
Our answer
Last year we wrote a negative article about PC Matic and posted it on our Cloudeight InfoAve website. A few months later we were "urged" to remove the article with a veiled threat that if we didn't, we could face legal action. We removed the article, because the last thing we need is a legal battle - even though we are right.
As for why the other newsletter is pushing PC Matic, we don't know. We can assume money is the motivator as PC Matic offers 50% (and higher) sales commissions. So, it's easy to see why some people who are motivated by money might be tempted to sell and promote PC Matic.
PC Matic protects your computer using "whitelists" - everything that is not whitelisted is blocked. This puts the burden on the user to know which items to whitelist and which to block. This, in our opinion, confuses the average user who won't always know what is safe to whitelist. PC Magazine says: "...Whitelist-based antivirus also blocks valid programs. Many false positives in independent lab tests. Few results from testing labs. Full malware scan missed most samples..."

Please read this article from the "Courier Journal" (Florence AL) and you'll get an honest assessment about PC Matic.
We hope this answers your question, Steve. As for us, we'll keep on recommending what we use on our own computers, and what we think is the best security software available...Emsisoft.




Includes "Anytime Repair" with Our Unattended Support Feature!

SeniorPass: A Great Deal for Our Friends 60 and Older!

With our Cloudeight Direct Computer Care SeniorPass, our friends age 60 and older get one full year of unlimited computer care and repair for one low price. With our SeniorPass you'll get the best computer care anywhere - any time you need it!

SeniorPass is valid for unlimited computer care & repair sessions for one full year starting with the first time you use it. The clock does not start ticking until you use your SeniorPass for the first time. A great deal!

Having SeniorPass is just like having insurance for your computer. You'll get one full year of computer care and get help with almost any computer problem whenever you need it. We're here to help you.

Computer care & repair for one full year just $99! Check out our SeniorPass offer right now!

Get your SeniorPass and/or get more information here.




How to Organize Your Folders
Windows 7, Windows 8.1 & Windows 10

One question we are often asked is how to sort folders by date, name, type, and so on. For instance, today Ken asked us how to make the new pictures he adds to a folder go to the bottom of the list.

Here's how to sort folders just about any way you like:

Open any folder and right-click on a blank space in the folder.

You'll see a menu appear. Click on "Sort by", and you'll see another menu appear.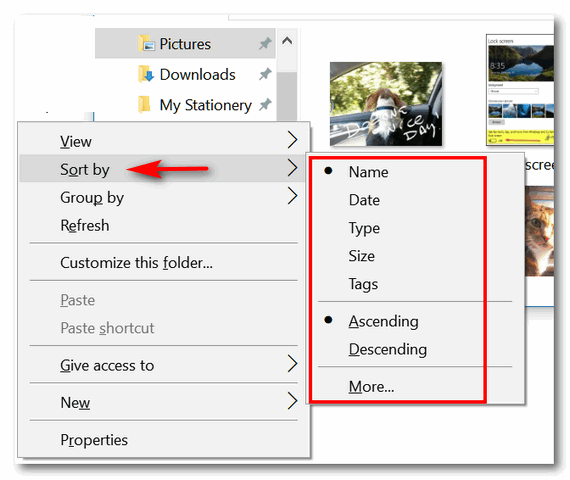 From that menu, you'll be able to sort all the items in that folder by Name, Date, Type, Size and Tags. You'll also see that you can sort them in ascending or descending order.

So, to answer Ken's question: He would sort his files by date in ascending order. This would put the newest files at the bottom and the oldest files at the top. Then when he adds a new picture to that folder, it will be placed at the bottom just like he wants.

You can sort any folder this way by name, date, type, size and tags and in ascending or descending order.

Let's do another example: Let's sort a folder by name. If we choose ascending order, files will be alphabetically sorted from A to Z. If we choose descending order, files will be alphabetically sorted from Z to A. See?



Above: Files sorted by name in ascending order.

Below: Files sorted by name in descending order.



You can use this method to sort any folder to organize it any way you want.



How Your Browser's Address Bar Can Help Keep You Safe
Windows 7, Windows 8x, Windows 10

No matter what browser you use, it has an address bar. The address bar is where you type in the address (URL) of a site you want to visit. It's also the place where you can see the address of the site you are on. So, if you get to a site by clicking a link rather than typing it in, you'll see the site's address (URL) in the browser's address bar.



(Above: The address bar in Microsoft Edge)

For instance, if you click http://www.thundercloud.net/infoave/new/ , your default browser will open and you'll see http://www.thundercloud.net/infoave/new/ in your browser's address bar.



(Above the address bar in Firefox showing the URL or "web address" to a truly wonderful site.)

Too bad there are so many crooks and so many greedy people with to much time on their hands who spend all their time trying to make easy money. So, think of your address bar as your first line of defense against these flagitious, reprehensible, nefarious reprobates out to trick you into giving up your good name, good credit and your money.

Here, we'll show you what we mean. Let's say you do your banking at Bank of America. You type in www.bankofamerica.com in your address bar and press Enter and voila the internet whisks you off to the banking site where you can log in and do your business.




Notice that it says "Bank of America [US] " in the address bar. And you can see it's a secure site by the lock on the left edge and the https:// before the address. Just looking at your browser's address bar to make sure you're on the site you're supposed to be on, an save you all kinds of worry, grief, and even money.

All's well, eh? For now. But let's say some evil, malicious knave, sends you an email that looks exactly like it came from Bank of America. And the email tells you that you need to log into your account and verify your username and password because, he says, there's been suspicious activity on your account. He does this to trick you. And to make the trick work, he puts a link to your bank site with something like please login here. And not thinking, you click it.

So, you click the link and you see this.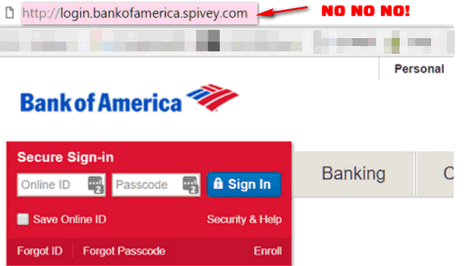 Now, if you're not paying attention, or you are tired or distracted, at a glance everything looks right. It looks like the Bank of America site and the login looks perfect. So, you type in your username and password - and nothing happens. Well, nothing happens that you can see. Somewhere, some lazy miscreant has tricked you into giving him (or her) your Bank of America username and password. And you can guess what he (or she) can do with that.

But if you look closely at the page above, and look at your browser's address bar, you see that the word before the dot com is not bankofamerica but spivey. Who the heck is spivey? Spivey was a bully at my grade school. We called him poison - Poison Spivey. He's now a guard at the landfill. First, the site (a banking site), is not showing the secure lock. You don't see any identification in the address bar that this is Bank of America. None. And remember this: Only the name that appears right before the dot (.) is the domain name.

So, for example, if you see http://support.microsoft.com/ the name before the dot com is Microsoft so it's a genuine Microsoft site (as long as it's spelled correctly). But if you see microsoft.support.spivey.com that's not Microsoft. And it doesn't matter if it's a dot com, a dot org, a dot net, a dot.tv or any of the other designations, the name right before the .com, .net, .org, .tv, .info, etc. tells you the domain . If you see dell-support.hooligan.com it's not a Dell domain and you should scurry away like a possum from a skunk. Or if you see support.mircosoft.com, it's not Microsoft site - note the misspelling.

So, the address bar is more than just a place to type in the address of a web site you want to visit. It's a way to check that the site you're on is legitimate; that it's the site you want to be on - and the site you're supposed to be on.

Now you know more about the address bar and how knowing how to read it can help keep you safe.



What Happens When You Reset a Windows 10 Computer?
Windows 10 (all versions)

If your Windows 10 computer is running poorly and the number of major problems begins to mount - we sometimes recommend that you do a Windows 10 Reset. We have written tutorials on how to do a Windows 10 Reset; you can read those here.

But some of you have asked for a more thorough explanation; you want to know what happens when you do a Windows 10 Reset. So, we're going to explain what the two types of Windows 10 Reset do.

When you reset Windows 10, the reset operation will remove Windows 10 and reinstall it. Many times reinstalling Windows solves a myriad of problems especially problems that evolve from Windows file system corruption, damage caused by malware, registry corruption, and other serious Windows problems.

There are two main ways to reset Windows 10. The first allows you to reset your computer and keep all your personal files. The second removes everything and reinstalls Windows. This option always has a secondary option to wipe the hard drive and remove all traces of data and reinstall Windows - which is a great option if you want to sell or give away your computer.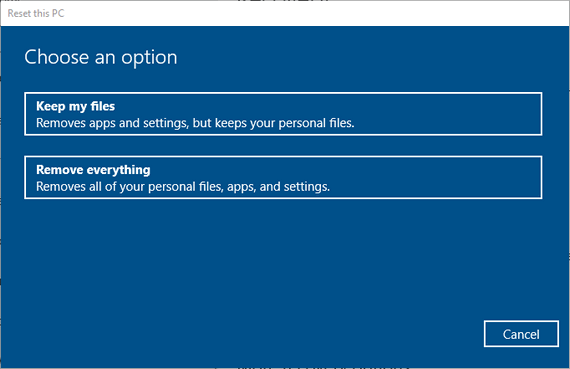 1. Windows 10 Reset: Keep my files

When your computer is running poorly and the number of problems keep increasing, this is the best and easiest option. Windows 10 Reset - Keep my files does the following:

-- Saves your personal files (pictures, documents, music, etc.)
-- Removes programs and apps you've installed
-- Removes your personalized settings
-- Removes the current Windows installation
-- Reinstalls Windows 10 and puts your personal files and folders back where they were.
-- Windows leaves a list of programs and apps that were removed on your hard drive for reference after the Reset is complete.

After you do this type of Windows 10 Reset the only programs that will be installed on your computer are the programs that come with Windows 10. If your computer came with Windows 10 you may find that any applications your computer manufacturer installed will also be installed. You will need to reinstall any programs you had installed in the previous installation. However we suggest you install only the programs you really need.

After you reset your Windows 10 method this way, you user account will be the same as it was prior to the reset.

2. Windows 10 Reset: Remove everything

-- Removes Windows 10
-- Removes all your personal files and folders.
-- Removes all programs and apps you installed.
-- Removes all changes you made to settings
-- Removes all apps preinstalled by the manufacturer
-- Reinstalls Windows 10

Once this type of reset it done, you'll need to set up a new user account and start over, so it's similar to setting up a new computer.

We hope this helps you understand how Windows 10 Reset works and what it does.



Be a Text CTRL Freak!
Windows 7, Windows 8.1, Windows 10 (all versions)
This tip will work in any email program like Thunderbird, and with most web mail applications like Gmail and Outlook.com. It also works in word processors such as Microsoft Word and many others. These text tips also work in WordPad which comes pre-installed with every version of Windows.
You want to make a sentence or word bolded, just highlight the word or sentence and press CTRL + B. See?
If you want to underline a sentence or word just highlight the sentence or word you want to underline and press CTRL + U. See?
If you want to italicize a word or sentence, just highlight the word or sentence and press CTRL+ i ... See?
If you want to make a word or sentence bold and italic and underline, just highlight and press CTRL+B, CTRL+ i and CTRL+U. SEE?
If you want to indent a sentence, just click CTRL+M.
If you want to make a hyperlink (a link to a web site) highlight the word or phrase and press CTRL+K. When you press CTRL+K a dialog will appear, type or paste the web site address (URL) into the address field, and voila! You have a link to a web site. See?
And if you want to create a new document press CTRL+N.
There are many more tricks like this. CTRL+C copies the selected text. CNTL+V pastes the copied text. If you accidentally make a change or delete something you didn't mean to change or delete, if you press CTRL+Z right away, it will undo or redo whatever you've done.



Quick and Simple Windows Tips
Windows 7, Windows 8x, Windows 10 (all versions)
Unless otherwise noted, these tips work on Windows 7, Windows 8x and Windows 10.
Quick Change
Want to change the name of a desktop icon, folder, file etc.? Click whatever you want to rename, then click the F2 key and make your change!
Quick View
To view properties menu of a file, folder, etc., highlight it and click Alt + Enter. Highlight My Computer (This PC) and click Alt + Enter to view System Properties.
Quick Print
Click Control + P to open the Print Dialog.
Quick Downloads
While using your favorite browser, press CTRL + J to view recent downloads.
Quick History
While using your favorite browser, press CTRL + H to view your browser history.
Quick File Explorer
Click the Windows Key + E to open File Explorer or Windows Explorer in a flash!
Quick-Lock Your Computer
Click the Windows Key + L to lock your computer. You'll need to type your password to log back into your user account. You can also use this tip to switch User accounts. (Note: This tip only works if you have more than one user account on your computer and your account uses a password.)
Quick Find
When you're visiting a website and looking for a certain word or phrase, use the Ctrl+F shortcut to bring up a page search box. It will appear near the top of the browser window in Chrome, Internet Explorer and Edge and at the bottom in Firefox. This works with all browsers.
Quick Run
Press and hold down the Windows key and tap the R key to open a run box.
Quick Tab
You can quickly open a new tab in any browser by using the Ctrl + T shortcut.
Quick Start Menu
Just press the Windows key to open the Start menu on Windows 10
Quick Settings
Windows key + i opens the Settings app on Windows 10
Quick Search
Windows key + S opens taskbar search on Windows 10.

Want more tips, tricks and information?
Rest Your Mouse! Handy Keyboard Shortcuts for Your Favorite Browser
If you're new to Windows 10 version 1903, these tips are for you!
We have thousands of Windows tips, tricks and more on our InfoAve web site. Come see for yourself!
Subscribe to our free InfoAve Daily newsletter.


Microsoft will end support for Windows 7 on January 14, 2020. Using Windows 7 after that date may put your computer at risk as Microsoft will no longer be releasing security updates and fixes for it. Now's the time to upgrade to Windows 10!
Whether you upgrade your Windows 7 to Windows 10 (still free) or buy a new Windows 10 computer, we can make you feel right at home on Windows 10 with our Windows Transformation service. We can make your Windows 10 look and work much more like Windows 7.
With our Windows 10 Transformation service, we can make your Windows 10 computer look and work more like Windows 7! With our transformation service we will:
Start the Windows 10 upgrade for you and assist you with the update.
~ After the update has completed, we'll...
Change the start menu to look like Windows 7 classic style and include your favorite programs
Change your taskbar and start menu colors to your preferences
Add an authentic Windows 7 start button
Add Windows 7 Wallpaper (if desired)
Change Windows 10 File Explorer so it works more like Windows 7's Windows Explorer
Add My Computer -- and other familiar Windows 7 icons -- to your desktop (if desired).
The Windows 10 Transformation service key never expires it's good until you use it. So get yours now!
Get more information or purchase your "Transformation" now.


The Internet Archive: Wayback Machine

Do you remember Rocky & Bullwinkle? If you do then you'll remember the "Wayback Machine". That was one of my favorite parts of the Rocky & Bullwinkle show – along with "Fractured Fairy Tales".

If you've been on and around the Web for as long as we have, then you too have seen tremendous changes to the way the Web looks and works. Back in the mid-'90's when we first laid eyes on the Internet, it was a far different place than it is today. Back then if someone asked what you did last night and you said "I surfed the web" – you were labeled a geek, a kook, or worse. The Internet was and oddity. And back then I don't think even Darcy & I, who both loved the Internet the minute we first laid eyes on it, ever thought it would develop into what it is today. The Internet grew from an oddity to a necessity in less than twenty years.

For those of you, like us, who sometimes find themselves longing for the good old days of the web, there's a website that can transport you back in time – back to the days when the web was a simpler place – a place where almost everything was free and the term "web designer" was used to describe spiders – the kind with eight legs.

Let's go back 15 years and look at Cloudeight Stationery. Back in those days, our site was ranked in the top 1000 most popular sites. Here is what Cloudeight Stationery looked like on June 2, 2004.




If you go back farther than that you'll get the "Netscape version" of our site no matter what browser you use. Back in those days, only Internet Explorer rendered our site and stationery correctly – but that was OK then, over 95% of Internet users were using Windows and browsing the Internet used Internet Explorer – there was no Firefox or Chrome.

How about Microsoft in 1998?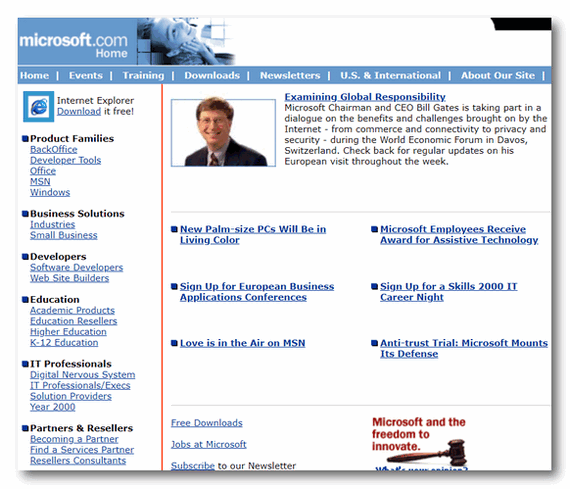 Or Amazon in 1999?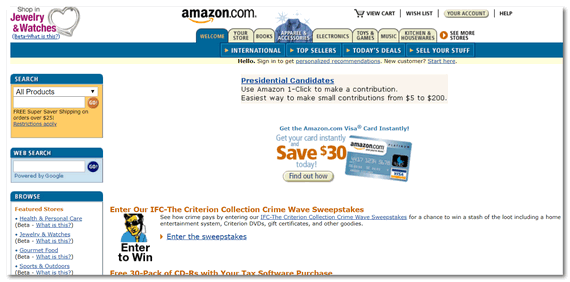 How about Yahoo in 1999?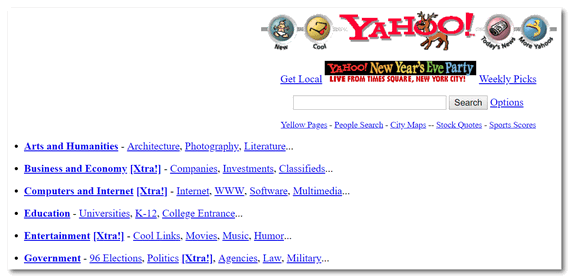 And one of my favorite sites of all time – unfortunately long gone from the Web: DaveCentral.com – The first thing I'd do every morning is get up, go to DaveCentral and download all the new freeware he recommended for that day. Darcy used to laugh at the stuff I'd put on my computer. I ran into problems being so aggressive and installing new programs so prolifically, but I also discovered some really great programs just by trying all of Dave's recommendations. RIP DaveCentral!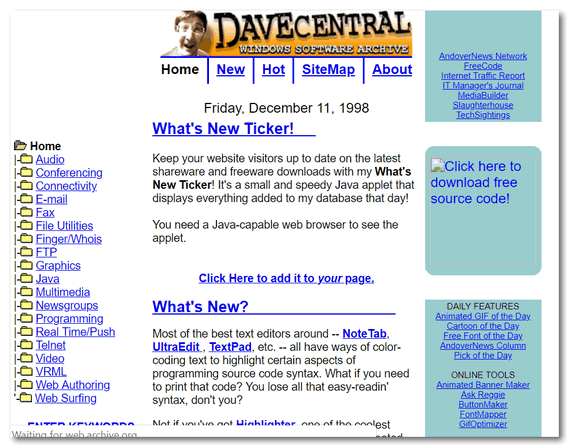 Do have favorite sites that have faded away or sites that you once loved that have changed for the worse? Are you just curious about what the Web used to look like way back when?

Our site pick today The Internet Archive: Wayback Machine has over 375 BILLION web pages archived and ready for your perusal.

Are you ready to hop on the Internet time machine and go back to another place and time? If you are, click here to visit The Internet Archive: Wayback Machine.

Have fun!





NEW VERSION NOW AVAILABLE!
Reg Organizer 8.30

If you purchased or renewed Reg Organizer through Cloudeight within the last 12 months, you're entitled to a free version upgrade to Reg Organizer 8.30..

Save $14 on Reg Organizer right now!

Reg Organizer - A Swiss Army Knife of Windows Tools - Works Great on Windows 10!




I Am a Lucky Guy
Life is full of surprises and twists and turns – and I have concluded that life is not fair. So what? I just roll with the punches. Life is not easy and anyone young enough to believe that life is fair will find out quickly that it is certainly not.
Most of us who've lived more than a few decades come to grips with the truth – the real "facts of life" – you just have to learn to take each day as it comes and always try to do your best. Some days will float away into the neverlands, others will gnaw and nag at you for weeks, months or years, and others will be beautiful if fleeting, memories, just tiny pieces of joy and happiness, love and understanding that filled moments of days now in the past, but still and always living inside the heart.
And sometimes, I guess, we're all a little bit underappreciative of the good things we have in our lives. Although I'm pretty sure that most of us who are still working would not count our jobs among the best things in our lives. But I'm here to tell you how thankful I am that I am able to do what I do and have such a wonderful and meaningful time doing it.
OK. So what is it I do that I think is so great? It's nothing extraordinary. I'm not a surgeon saving lives, or an officer of the law preventing a robbery, or a minister or priest saving souls. No, I'm afraid I don't do anything so grand as those people do.
But what I do is what I like and what I enjoy. I get to work with someone (Darcy) who is kind and understanding and honest – and who is not afraid to coil my gears should I get out of line. And I say… good for her!
Twenty-one years ago, Darcy and I started out sharing graphics on an obscure web site called Thundercloud & Eightball's Holiday Graphics.
I can remember coming home from the job I had at that time and Darcy would message me and say …"We had 5 visitors today!" .It was exciting. Then toward Christmas, one day we had 50 visitors. I thought for sure we are on the way to becoming Internet moguls. It's funny now, but I can remember being so excited, I'd be up at 4:00 AM and on the computer and I'd still be on the computer at midnight. I was on the computer until my eyes wouldn't stay open another minute. Talk about a labor of love.
I'm not going to get into a long history here, suffice it to say we went on to create Cloudeight Stationery and become the most successful email stationery site on the web. We had over a quarter-million mail list subscribers and we were doing well. Then along came Windows 7 and that was the death knell for our stationery. We had to completely reinvent ourselves — or quit...
Read the rest of "I Am a Lucky Guy" here.



Help us keep on helping you!
When you support us with a small gift, you help us continue our mission to keep you informed, separate the truth from the hyperbole, and help you stay safer online. Plus, our computer tips make your computer easier to use.
Did you know that we provide support to thousands of people? Every week we help dozens of people via email at no charge. The questions and answers you see in our newsletters are from the email answers and help we provide to everyone free of charge.
Thanks to your gifts, we do a lot more than provide this free newsletter. We help you recognize online threats, fight for your online privacy, provide you with the knowledge you need to navigate the Web safely, provide you with suggestions for safe, free software and websites, and help you get more out of your PC.
Please Help us keep up the good fight with a small gift.
Interested in making an automatic monthly gift? Visit this page. Help us keep helping you... and helping you stay safe on the Web.






What is a processor (CPU)?

EB is a processor. She processes my salary. By the time she gets done processing it, I end up with $7.43 each week, and EB keeps the remaining $4.67 for a processing fee. You might have noticed when you order something "As seen on TV" you end up paying a shipping and processing charge. Processing charges, like EB's, are generally fees for doing very little work - so processing is a euphemism for taking your money for "processing" nothing.

But surely I jest. You want to know about computer processors - the one(s) inside your computer. Generally referred to as "the processor" or CPU (Central Processing Unit), it's the brain of your computer. It's like your brain, which processes everything you hear, see, feel and do. The CPU or processor(s) inside your computer or device is the brain of your computer or device. But rather than me trying to explain it, I'm going to give you a really good definition from TechTerms.

The following is from this TechTerms page. If your brain is ready... start processing!

"A processor, or "microprocessor," is a small chip that resides in computers and other electronic devices. Its basic job is to receive input and provide the appropriate output. While this may seem like a simple task, modern processors can handle trillions of calculations per second.

The central processor of a computer is also known as the CPU, or "central processing unit." This processor handles all the basic system instructions, such as processing mouse and keyboard input and running applications. Most desktop computers contain a CPU developed by either Intel or AMD, both of which use the x86 processor architecture. Mobile devices, such as laptops and tablets may use Intel and AMD CPUs, but can also use specific mobile processors developed by companies like ARM or Apple.

Modern CPUs often include multiple processing cores, which work together to process instructions. While these "cores" are contained in one physical unit, they are actually individual processors. In fact, if you view your computer's performance with a system monitoring utility like Windows Task Manager (Windows) or Activity Monitor (Mac OS X), you will see separate graphs for each processor..."

If you want to know even more about this subject, please visit this page to read the rest of this article... and keep on processing. And remember: If you have a desktop, the computer case is not a CPU.

What's that EB? Your processing fee just went up by 10%. I barely get paid now! I can't afford another 10%!





Help us by sharing us on your Facebook page!

Do you use Facebook? If you have a Facebook page, please help us by sharing us on Facebook. You can help us by sharing one of our articles or pages. You can also help us by sharing over 4000 computer tips and tricks on our InfoAve web site at http://thundercloud.net/infoave/new/ or our Facebook page at https://facebook.com/cloud8internet. If you have used our products and services and are pleased, mention us on your Facebook page. Thanks so much for your help!




Sales of the following products and services help support our newsletters, websites, and free computer help services we provide.

Cloudeight Direct Computer Care: Single Keys, SeniorPass or Season Tickets - always a great deal. Cloudeight Direct Computer Care is like having PC insurance. Get more information here.

Emsisoft Anti-Malware: Emsisoft is the only Cloudeight endorsed and recommend Windows security program. It provides users with a complete antivirus, antimalware, anti-ransomware, anti-PUPs solution. We offer single Emsisoft licenses and multi-computer licenses at discount prices. Also, we offer our exclusive Emsisoft with Cloudeight installation & setup. Get more information here.

Thunderbird Email Setup: Thunderbird is a great email program that you can use with your Gmail and Outlook.com (Hotmail) webmail accounts as well as with your Internet provider's email. We'll set it up correctly you. Our set up includes configuring up to 3 emails accounts and setting up Thunderbird to use stationery (if desired). Our Thunderbird Email Setup Service is always a great deal. For more information visit this page.

Reg Organizer 8.29: Reg Organizer is the Swiss Army Knife of Windows tools. It's far more than just a registry optimizer and cleaner... it's Windows all-in-one toolkit. Helps you keep your computer in tip-top shape and helps solve annoying Windows problems. Reg Organizer works great with Windows 10 too! Get more information about Reg Organizer (and get our special discount prices) here.




Premium Subscribers' Home Page. You'll find the last few weeks of Premium archived on this page.
To change your subscription address, see "Manage your subscription" at the bottom of this newsletter.
Submit your questions, comments, and suggestions for possible inclusion in our newsletters here. This form is for questions, comments, and suggestions for this newsletter. This form is not for product support, stationery questions, or general questions concerning our products or services.
Send us your suggestions and recommendations for future freeware picks and/or sites of the week
Help us Grow! Forward this email newsletter to a friend or family member - and have them sign-up for InfoAve Premium here!
Get our free daily newsletter! Each evening we send a short newsletter with a tip or trick or a computer-related article - it's short and sweet - and free. Sign-up right now.
Have a question about a Cloudeight Software program, service, stationery, or need to ask about an order? Let us know!
If you need help with one of our software programs, have a question about an order, or have a question about any of our email stationery, screensavers, or other products - please don't use our InfoAve Questions/Answers/Tips form. Use our general Cloudeight support form instead.
Print our Cloudeight Direct Flyer and spread the word about our computer repair service! If you want to help us by telling your friends about our Cloudeight Direct Computer Care service, you can download a printable flyer you can hand out or post on bulletin boards, etc. Get the printable PDF Cloudeight Direct Computer Care flyer here.




These products and services are recommended and endorsed by Cloudeight:
Also... don't forget:




We'd love to hear from you!

If you have comments, questions, a tip, trick, a freeware pick, or just want to tell us off for something, let us know.

If you need to change your newsletter subscription address, please see "Manage your subscription" at the very bottom of your newsletter.

We received hundreds of questions for possible use in IA news. Please keep in mind we cannot answer all general computer questions. We try to personally answer as many as we can. We can only use a few to in each week's newsletter, so keep this in mind. If you have a support question about a service or product we sell, please contact us here.





Subscribe to our Daily Newsletter!

Get computer tips & tricks every night. Our daily newsletter features a computer tip/trick or two every day. We send it out every night around 9 PM Eastern Time (USA). It's short and sweet, easy-to-read, and FREE. Just visit this page and sign-up. All you have to enter is your email address. Once you confirm your subscription, you'll receive our daily newsletter every day, six days a week. You can unsubscribe at any time.

Print our Cloudeight Direct Computer Care Flyer!

Print our Cloudeight Direct Computer Care Flyer and spread the word about our Cloudeight Direct Computer Care repair services. Get our ready-to-print flyer here.





We hope you have enjoyed this issue of InfoAve Premium. Thanks so much for your support and for being a Premium subscriber.

To all our friends in the United States - have a safe and happy Labor Day Weekend.

To all our friends in other countries around the world, have a great weekend.

Darcy & TC
Cloudeight InfoAve Premium - Issue #829
Volume 16 Number 45
August 30, 2019

Not a subscriber? Subscribe to our InfoAve Premium Newsletter

Share Us on Facebook!
We'd love for you to share us with your family and friends on Facebook. Help us by sharing us on Facebook!






"Cloudeight InfoAve Premium" newsletter is published by:

Cloudeight Internet LLC
PO Box 73
Middleville, Michigan USA 49333-0073

Read our disclaimer about the tips, tricks, answers, site picks and freeware picks featured in this newsletter.

Copyright ©2019 by Cloudeight Internet