Cloudeight InfoAve Premium
Issue #836
Volume 16 Number 52
October 18, 2019

Dear Friends,

Welcome to Cloudeight InfoAve Premium issue #836. Thank you very much for subscribing and for being a part of our Cloudeight family. We appreciate your friendship and support very much!





Thanks for making another year of Cloudeight InfoAve Premium possible

This is the last issue of the 16th year of our InfoAve Premium newsletter. We want to thank you all for making it possible. Next week we begin the 17th year of our Cloudeight InfoAve Premium newsletter with issue #837.

Thanks so much for your support and for making this newsletter possible. We both really appreciate it.





Help us by sharing us on your Facebook page!

Do you use Facebook? If you have a Facebook page, please help us by sharing us on Facebook. You can help us by sharing one of our articles or pages. You can also help us by sharing over 4000 computer tips and tricks on our InfoAve web site at http://thundercloud.net/infoave/new/ or our Facebook page at https://facebook.com/cloud8internet. If you have used our products and services and are pleased, mention us on your Facebook page. Thanks so much for your help!



This is the last week for our Fall Donation Drive. Please help us keep on helping you!
Did you know that we provide support to thousands of people? Every week we help dozens of people via email at no charge. The questions and answers you see in our newsletters are from the email answers and the help we provide to everyone free of charge.
Thanks to your gifts, we do a lot more than provide this free newsletter. We help you recognize online threats, fight for your online privacy, provide you with the knowledge you need to navigate the Web safely, provide you with suggestions for safe, free software and websites, and help you get more out of your PC.
We hope you'll consider making a small donation during our autumn donation drive. Every donation, regardless of the amount, is welcome and very much appreciated.
Please Help us keep up the good fight with a small gift.
Interested in making an automatic monthly gift? Visit this page. Help us keep helping you... and helping you stay safe on the Web.






A comment from Sherri
Darcy, thank you for a job well done. I am so happy to have both of my computers under the care of Cloudeight. I am so glad you are here to help customers like me who are not very computer savvy. I know I can trust my computers to you and TC. Your prices are move than fair and your services are exceptional. I'm am one of your many very happy customers! Thanks, Sherri

A comment from Helen
Thank you so much for your help, TC. I honestly don't know what I'd do without your help. I have been with Cloudeight since the beginning - I was a big fan of your stationery. And I now rely on you and Darcy to keep my computer up and running and to keep me safe. Thank you again for all your help and your wonderful newsletters. Sincerely, Helen.

A comment from David
Just a huge thank you to Darcy. My Emsisoft was about to expire and I was not paying attention. I was worried my protection was about to expire and I wasn't sure about how to renew my Emsisoft. I emailed Cloudeight, and Darcy replied and got my Emsisoft renewed for me immediately. What great service. Thanks again, David G.

A comment from Rebecca
A big thank you to TC. He just worked on my 79 year-old husband's Windows 10 laptop. He was a dyed in the wool Windows 7 user and was having a fit because Windows 10 does not look much like Windows 7. I got an appt. with Cloudeight. TC came, found some bad programs on my husband's computer, removed them, cleaned things up, and then make his Windows 10 computer look just like Windows 7. My husband's happy and not complaining about his new laptop anymore. So thanks so much TC. You and Darcy offer a great service and your prices are so fair!
A comment from Robert
I just wanted to thank you for all the years of help you've given me and my family. From your web site to your newsletters, to your repair service, you provide an exceptional service that I and many others appreciate. I have been with you many years and I just felt like a thank you from me was way overdue. Thanks so much to both of you. Robert F.
A big Cloudeight "Thank you!" to Sherri, Helen, David, Rebecca, Robert and everyone who took time out to write to us, share a comment and/or share us on Facebook! We appreciate your kind words and your support very much! EB & TC.



Your Purchase Helps Us!
When you purchase any Cloudeight Direct Computer Care Service, you get the best computer care and repair, at the lowest possible price. Plus, each Cloudeight Direct Computer Care service you purchase goes a long way in helping to support our small business.

Your computer fixed - while you watch!
With our Cloudeight Computer Care, we'll fix your computer while you watch. You'll be getting the best computer repair service available, at the best price, from people you trust. Our Cloudeight Direct Computer Care single repair keys are a great deal. They are good until you use them.

For more information see our Cloudeight Direct Computer Care home page!




Here are some important links for you:



Heinz has a problem with a website form that's being auto-filled by his browser
I am a Disabled American Veteran service officer. I work VA claims for Veteran Compensation. Here is the issue: I go to VA Forms for the latest forms that they have. They change frequently. When I pull in a form from the VA website, I get a form that I previously filed out for a veteran instead of getting a new blank form. I have cleared the cache and cookies, but it still happens. How can I find this filled out form on my computer and permanently delete it? Hope you understand this issue.

Our answer
Hi Heinz. Incognito, Private, and InPrivate browser modes would solve your problem since no browser saves anything in these modes. But since I'm not sure of what browser you're using, I'll try to cover all of the popular browsers and show you the easiest way to open incognito or private browser windows.

Chrome
If you're using Chrome, with Chrome open press the CTRL+SHIFT+N keys to open a new incognito window. In incognito mode, Google Chrome does not store anything or save anything, so this should work for you every time.

Firefox
If you are using Firefox, with Firefox open, press CTRL+SHIFT+P to open a new private window, like incognito mode in Chrome, Firefox does not store or save any data from your browser sessions.

Microsoft Edge
If you are using MS Edge, right-click on the MS Edge shortcut and click "New InPrivate Window". InPrivate mode is the same as Incognito mode in Chrome and Private mode in Firefox.

Internet Explorer
If you are using Internet Explorer, right-click on the shortcut and choose "New InPrivate Browsing".

Let me know if this helps you. If it does, and if you'd like, I can show you how to make shortcuts to open your browser directly in incognito or private modes.
--------
Heinz wrote back: "Thank TC, for your response. I will try all of those examples on Monday, where I work for DAV.I would like the shortcuts to browsers. Darcy set up Thunderbird on my home computer last month. I sent her a thank you note. Heinz"



Delores got a USB WiFi adapter but now her wireless mouse and keyboard don't work
I got a wireless adapter as you suggested. Thanks! It is working and I am connecting to the internet fine. But my wireless keyboard and wireless mouse connects but do not work. Is the adapter not working with them? You are wonderful and always helpful. Thank you so much.

Our answer
Hi Delores. Thanks for your nice comments.

Your wireless network does not affect your wireless keyboard/mouse. Wireless keyboards and mice have a receiver that plugs into a USB port on your computer that creates a connection that is independent of your wireless network. You can use a wireless mouse or keyboard with a wired (Ethernet) connection as well as a Wi-Fi connection. You don't need an internet connection at all to use a wireless mouse or keyboard.

So whatever is wrong with your wireless mouse & keyboard has nothing to do with your wireless adapter or network.

Try this: Shutdown your computer. Then unplug your wireless mouse/keyboard receiver that plugs into a USB port. Then plug the receiver into a different USB port and turn the computer back on and see if that works. The only other thing I can think of would be your keyboard/mouse batteries need to be replaced or recharged. If they have rechargeable batteries and they are very old they may no longer be able to hold a charge and you might need to replace them.

I hope this helps you, Delores.



Audrey needs to contact Microsoft
Do you possibly have a valid phone number for Microsoft? You had published several contact phone numbers a month or so ago, but of course, I can't find it right now. I'm trying to get the password for my husband's account since our computer crashed. Thank you!

Our answer
Hi Audrey. Microsoft's customer service number is 1-800-642-7676. That is the North American Microsoft Support number. It's answered 24 hours a day, 7 days a week. You won't be answered by a real person, you'll have to tap some keys as you listen to the prompts. Microsoft will try to guide you away from talking to a real Microsoft employee by telling you about "self-help resources". But just be persistent. In our tests, we were able to get to a real person within 5 minutes.

If you're using Windows 10 you can contact support right from any PC. You can even have Microsoft call you or you can schedule a call from Microsoft. See this page to learn how to do that.

If you need any more help, let us know.





Jean lost her Internet connection on her main computer
My main computer has lost internet connection. In Device Manager, there is the yellow triangle beside the Intel (R) 82579LM Gigabit Network Connection #2. Tried to update. The message is: Windows has determined the best driver for this device is already installed. There may be better drivers on Windows Update or on the device manufacturer's website. I need your advice please and thank you. Jean.

Our answer
Hi Jean. Installing a new driver will not fix the Ethernet connection. I'm assuming it stopped working before you tried installing a new driver. I'm going to guess your Network card is going bad or has gone bad. We can rule out a problem with your modem and router since your other devices are working. Does your computer have a wireless card? If so, you could connect using the WiFi connection.

I suggest you reset your network. Resetting the network settings only affects your compute. It will completely reset your PC's network settings as well as your network adapters. This may help you. If you want to try resetting your network - I think it's worth a try anyway - follow the instructions on this page:

http://www.thundercloud.net/infoave/new/how-to-completely-reset-windows-10-network-settings/

Let me know what happens and if you need anymore help.
-------
Jean wrote back: "Hi TC. It worked!! I'm on the internet... everything went smoothly. Thanks buckets. I don't know what I would do without you to turn to every time I have a problem. Jean"





Bill asks about a registry cleaner and Norton LifeLock
Hi Neighbors! Yup still above the sod—at least for some time yet I hope. Suppose you two are ready for the winter temps and such? It's coming a tad too early. Had about 4" here, but that's mostly gone.

I had a question that I've been wanting to write you about so just decided to write you direct. I've have a program entitled Registry First Aid that I've been using for several years. I know what you're going to say—I think, but I can handle it. Smile I think I got it from my AU pal. She was using it at the time. I must have been using it for a couple years or so. I'm not an expert here by any means as it seems to be doing well, but I'd like your take on it. The reason being that I'd like to assist you a bit again in your efforts to survive a bit longer at this computer business by purchasing your Reg Organizer when my program is due to renew.

Isn't Life Lock associated with Norton? I thought I read that somewhere. Anyway, I wouldn't have Norton stuffed up my nose no how. I used to use it way back in time when I was running Macs, which I loved btw, but it let some crap in even after I was keeping it current, or thought I was. I don't want to hurt your feelings either, but I detest FB too. I feel the same way about all those social programs. Maybe I'm getting too old and cranky?

Anyway, you two take care and keep up the good work. Good to hear from you. Oh, and another thing, I'm having trouble keeping current with your InfoAve Premium. Too fast for me anymore.

Our answer
Hi Bill. It's good to hear from you again.

Registry First Aid is not something we think highly of - it's a registry cleaner which is not necessary and these kinds of programs can get you into trouble. Luckily it has not gotten you in trouble yet, I hope.

As far as Lifelock, Norton bought it and it sure belongs with Norton which is still riding on the reputation it earned way back in the 1990's when it was one of the only antivirus programs available then. Those were the days when viruses were everywhere. Now more sophisticated malware have pretty much made viruses things of the past. Norton has only gotten worse it doesn't do a very good job of protecting its users from the malware they are most likely to encounter. Rather than improving the software, they just keep adding things to it like VPNs and LifeLock.

LifeLock has a long reputation of not delivering on its promises. LifeLock has been sued many times and it has been fined by the FTC for false advertising. Currently, LifeLock is involved in a class-action lawsuit. If someone want's to throw away $120 - $240 a year, I wish they'd throw it our way. We recently covered this in our InfoAve newsletter on Friday, October 18, 2019.

Here's part of that article...

"A new class action lawsuit alleges that LifeLock, an identity theft protection service, fails to deliver on the promises it makes to consumers in its TV, radio, and online advertising.

The LifeLock class action states that the Federal Trade Commission (FTC) has even brought legal action against the company on two separate occasions, but LifeLock continues to misstate the services it purports to provide to consumers.

Plaintiffs Joe Weingarten and Darrell Hunter allege that they each paid hundreds of dollars to LifeLock based on advertising that promised protection from identity theft; however, the company did not live up to its promises.

Weingarten says he discovered that his Social Security number and personal credit were being used fraudulently. Further, LifeLock failed to notify him that his address had been changed with the United States Postal Service without his knowledge.

Hunter alleges that he paid for LifeLock services in 2014 and 2015, but when he tried to use LifeLock to resolve a credit inquiry, the company failed to do anything about the problem even months later..." To read more see this page..
The best way to keep your identity safe is not to buy Norton/LifeLock but to use common sense and reasonable care when giving out your personal information (social security number, home address, credit card numbers, etc.) online. Most identity theft begins with an email designed to look like it came from the government, a bank or a credit card company asking the recipient to "verify" his/her personal information. A link is provided. Click the link and you will see a site that looks just like you expect. But it is only a very good counterfeit of the site you're expecting to see. These criminals are clever and talented and they can design emails and web sites that look exactly like the real thing. But no bank, no credit card company, and no government will ask you to click a link to verify anything - if they need you to take action they will tell you to "Log in to your account" or call. Never click a link in an email asking you to verify your personal information or update your password.

You'll be happy to learn we have trimmed down our InfoAve Premium Newsletter. We have made it a bit shorter and easier to read. We've even moved additional questions and answers online -- which as turned out to be very popular. So it should now be easier to keep up with - we hope.

I hope this answers your questions.

It's good to hear from you, Bill. I agree - every day above ground is a good day!



Microsoft will end support for Windows 7 on January 14, 2020. Using Windows 7 after that date may put your computer at risk as Microsoft will no longer be releasing security updates and fixes for it. Now's the time to upgrade to Windows 10!

Whether you upgrade your Windows 7 to Windows 10 (still free) or buy a new Windows 10 computer, we can make you feel right at home on Windows 10 with our Windows Transformation service. We can make your Windows 10 look and work much more like Windows 7.

With our Windows 10 Transformation service, we can make your Windows 10 computer look and work more like Windows 7! With our transformation service we will:
Start the Windows 10 upgrade for you and assist you with the update.
~ After the update has completed, we will:
Change the start menu to look like Windows 7 classic style and include your favorite programs
Change your taskbar and start menu colors to your preferences
Add an authentic Windows 7 start button
Add Windows 7 Wallpaper (if desired)
Change Windows 10 File Explorer so it works more like Windows 7's Windows Explorer
Add My Computer -- and other familiar Windows 7 icons -- to your desktop (if desired).
The Windows 10 Transformation service key never expires it's good until you use it. So get yours now!
Get more information or purchase your "Transformation" now.




How to Clean Your Windows 10 Computer If You're Selling it Or Giving It Away
Windows 10 (all versions)

If you're going to be giving away or selling your Windows 10 computer, you'll be glad to know that you don't need to download any 3-party software to wipe your personal information from your computer before you give it away or sell it. Now we're not saying that this would pass NSA, CIA, or FBI forensics scrutiny, but for most of us ordinary souls this method will work just fine.

Here's what you need to do:

1. Right-click on the Windows 10 start button & click Settings.

2. In Settings > click on Update & Security.

3. In Update & Security > click on Recovery




4. In Recovery under Reset this PC" > click on "Get started".

5. When you click on "Get started", you'll have two options:

a. Keep my files – Removes apps and settings, but keeps your personal files.

b. Remove everything – Removes all of your personal files, apps and settings.




6. Click on Remove everything.




7. Windows will ask if you want "Just remove my files " or "Remove files and clean the drive". Since you're not keeping the computer, choose "Remove files and clean the drive" Selecting this wipes the C:\ drive of everything and then reinstalls Windows 10. After you do this when you give the computer away, or sell it, it's like a computer that you've never used.

Once you click on "Remove files and clean the drive" Windows will warn you and ask you to confirm you want to proceed with this operation. After you confirm that you want to do this, Windows will start the process of wiping the drive and reinstalling Windows 10. This could take a few hours – but you don't have to hang around while this is being done; it's automatic. When Windows has wiped the drive and reinstalled Windows 10 it will be like a new computer. Whoever you give it or sell it to, will set up time zone, language, user accounts, etc. – Just like they'd do with a new computer.

So now you know what to do if you're planning on selling or giving away a Windows 10 computer and how easy it is to do it.



How to Create Zip Folders in Windows 10 Without Using Any 3rd-party Software
Windows 10
Ever since Windows XP, Windows has had a built-in compression (or zip) utility. And while all of the images used in this tip were created on Windows 10, this tip also works with Windows 7 and/or Windows 8.1 and in much the same way. While not nearly as full-featured as some third-party compression utilities, such as like 7-zip, the Windows compression (zip) utility lets you create zipped files and it's very easy to do.
Why would you ever need to create a zip file? What if you have 20 great pictures from your vacation to Italy. And let's say you want to share them with a friend by email. If you were the friend would you rather receive a zip file with 20 pictures in it or an email with 20 pictures attached? Enough said.
You can create a zip file from a folder on your computer without installing any 3rd-party programs and here's how:
Chose any folder on your computer. For example, let's say you have pictures you took last Christmas in a folder in your Pictures folder. You can zip up your Christmas pictures folder this way:
Right-click on the folder you want to zip
Click on "Send to" then choose "Compressed (zipped) folder" from the menu which appears". That's it. The zipped file/folder will be created in the same location where the original files/folders are located.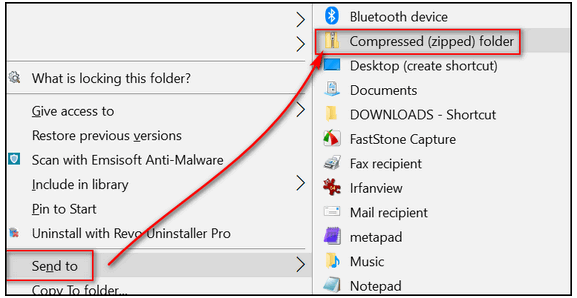 Below you'll see I created 3 test folders. I added some pictures to each folder. Then for this tip, I compressed (zipped) the folder I called Test Folder 3. See? The original folder remains untouched, but all the files in Test Folder 3 are zipped inside the Test Foler3 zipped file.
You can rename your compressed folder the same way you rename any other folder.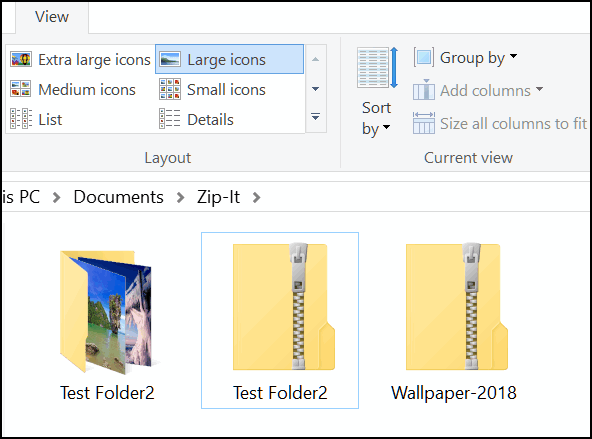 Notice above that I renamed Test Folder3.zip to Wallpaper-2018.zip.
And one more thing. If you forgot to add some pictures to the folder before you zipped it, no problem. Here's how to add additional files to a zipped file.
Just drag and drop any file that you want to add to the zipped file and it will automatically be included in the zip file.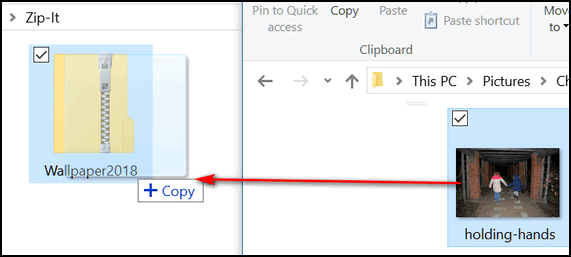 When you drag and drop a file to the zip file, it will be added to the zip file without changing or removing the original file.
Now you know how to create compressed (zip) files in Windows 10 without using any 3rd-party software.



Strong Passwords Made Easy
A tip for everyone using the Internet
October is National Cyber Security Month and we want to remind you all - once again - how important strong passwords are. It's important that you use strong passwords on any site that deals with money or stores your personal information. And it's just as important that you never use the same password on more than one site.
Using a good password manager makes it so much easier to change and manage your passwords. And we have preached and preached about using a good password manager like LastPass (or pick any good password manager) to create and manage passwords. But we have finally realized that many of you are still not using a password manager and you're never going to.
But we can't begin to tell you how important it is that you use strong passwords and never reuse passwords on any site that deals with money or sensitive information (Social Security number, credit card numbers, etc.). Sometimes, the only thing that stands between you and the criminals out to get your money or steal your identity is your passwords.
We have been around the computer world for a long time, so we know exactly why so many of you use simple passwords like sandyb1831 or reggie48… and we know why you use the same passwords over and over. Why? Because you can't remember strong complex passwords and it's a pain in the neck when you can't log in to sites because you can't remember your passwords. (These are all good reasons you should use a password manager like LastPass! )
So, for those of you who don't want to use a password manager, here are some tips on creating easy-to-remember, but strong and complex passwords from your old uncle TC and auntie EB.
Let's say your favorite movie is Gone With the Wind. You can make a strong password from that, you know?
Gon3WlTHth3w1nd*
That's one way to do it. Notice the E's are 3's and the capital I in WITH is actually a lower case L. And the asterisk at the end adds a symbol to complete a very secure password. According to www.howsecureismypassword.net, it would take a hacker a trillion years to crack that password. That's longer than even EB is going to be around.
Or "Gone With the Wind" fans, try this one:
Fr@nkly$c@let*i*d0ntgiv3@d@mn!
It would take a computer about 312 UNDECILLION YEARS to crack that password.
What if your wife has nice eyes? And her name is Meg?
iLuvuri$m3g
You are in luck. Even though that password is fairly short, it would take 400 years for a computer to crack it.
Or what about your license plate, last 4 digits of your cell number and your first name. You can remember those things, right?
NEOU812*4419*D@n
His Nebraska license plate is OU812, the last 4 digits of his phone number is 4419 and his name is Dan. As you can see we used asterisks to separate them and the @ sign for the a in Dan. Oh so clever! And Dan, you're pretty safe… according to www.howsecureismypassword.net it would take a computer a trillion years to crack that one.
OK… now we've given you some ideas on how to create some pretty strong passwords that are easy to remember and almost impossible to hack. If you don't want to use a password manager like LastPass, at least put our easy-to-use password tips to good use! After all, it's for your own safety.
Let's see what I can do with Darcy's name…
d@rcyYRu$0M3@N?
429 billion years to crack that one, EB!



The Run Box: It's Not Just a Geeky Thing
Windows 7, Windows 8x, Windows 10 (all versions)
Most of you know that you can open a Run command by pressing the Windows Key + R. But did you know that when you open up a Run box, you open up a world of commands. And just seriously complex commands made for geeky people. Many are for normal folks like you and me… and the ones we're going to show you can come in handy.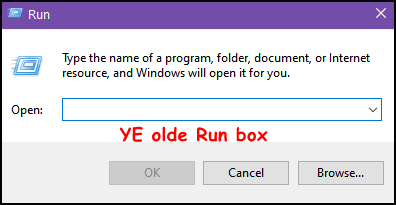 Moving right along…
Did you know that you can open programs or web pages from a Run command? You can open folders and run Windows commands as well. The Run command is not just for geeks in dirty sweat pants sitting around in dank, musty basements surrounded by computer screens and billows of e-cigarette smoke. The Run command works for ordinary folks too — and we are going to prove it to you.
Use the Windows Key+R keyboard shortcut to open the Run dialog box — hereinafter called "the Run box". Type the name of a program in the Run box and press Enter. For instance, try typing Chrome and then tapping Enter key. If Chrome is installed, it will open. You can try other programs too, but keep in mind, If the program does not open, some programs require you to be a geek and type in file path too.
But we're not geeks so we're going to show you some applications you can open from a Run box for which you don't need no stinkin' file paths.
Enough yammer! Let's try some Run box magic right now. Press & hold down the Windows Key and tap the R key. The Run dialog will open. Now enter any of the following in the Run box and press Enter:
Notepad

MSINFO32

WordPad

iexplore.exe (Internet Explorer)

RSTRUI.exe (System Restore)

MSPaint (Microsoft Paint)

MSCONFIG (Configuration utility)

SERVICES.MSC (Windows Services)

WRITE (Opens WordPad)

Chrome (if Chrome is installed)

Firefox (if Firefox is installed)

MSEdge (Opens Edge in Windows 10)

Thunderbird (if Thunderbird is installed)

Winver (displays your current Windows version)

Taskmgr (opens Task Manager)

Calc (opens the Windows Calculator)

Documents (opens your Documents folder)

Downloads (opens your default Downloads folder)

Explorer (opens File Explorer (Windows 8 & Windows 10. Windows Explorer in Windows 7)

Shutdown /R (restarts your computer)

Shutdown (shuts down your computer)
You can also enter a URL (Web page address) directly into a Run Command and open up any webpage in your default browser.
Try www.thundercloud.net/start/
There are tons of other commands too, but woe is me, I'm tired of trying to think of them! The list above should be plenty to get you started.




Want more tips, tricks, and information?
We have thousands of Windows tips, tricks and more on our InfoAve web site.
Subscribe to our free InfoAve Daily newsletter.



This is the last week for our Fall Donation Drive. Please help us keep on helping you!
Did you know that we provide support to thousands of people? Every week we help dozens of people via email at no charge. The questions and answers you see in our newsletters are from the email answers and the help we provide to everyone free of charge.
Thanks to your gifts, we do a lot more than provide this free newsletter. We help you recognize online threats, fight for your online privacy, provide you with the knowledge you need to navigate the Web safely, provide you with suggestions for safe, free software and websites, and help you get more out of your PC.
We hope you'll consider making a small donation during our autumn donation drive. Every donation, regardless of the amount, is welcome and very much appreciated.
Please Help us keep up the good fight with a small gift.
Interested in making an automatic monthly gift? Visit this page. Help us keep helping you... and helping you stay safe on the Web.



Three Grammar Sites We Like (but apparently don't learn from…)
I have long been the target of the grammar police and pedantic readers who take me to task for my use — or misuse — of the English language. Someone recently asked me, if English was my second language. Obviously not, I retorted, I've speaked English since I was bored, decades ago, right here in Ohio, USA.
Because of my literary nonchalance and sloppiness, you, my friends, are not required to use perfect grammar when submitting questions or comments to us. Believe it or not, we know of a site, run by someone who actually warns users, that if they submit questions or comments to him that contain grammatical errors, he will not reply (and this is 100% true… pomposity rears its ugly head). No wonder he never answers me!
I'm being verbose as I am often wont to do. But without such verbosity, this article would only be about seventy-five words long and thus, too short for my style. And we all know I have a lot of style, right, EB?
In the spirit of common decency and to save you time, I shall ramble no more.
Today, my grammar-o-phile friends, we feature three sites where you're either going to spend hours looking for some minor grammatical slip-up, or you're just going to take off your grammar police badge, sit back and relax and laugh. I prefer you do the latter, but as we all know by now, you don't much care very much about what I prefer. I prefer that you don't pick apart my grammatical guffaws and write me scathing emails or leave blistering comments… why not let a few of them slide. It's not easy being me, I tells ya!
Without further rambling, yammering or other unnecessary discourse, I present, for your critical review and/or amusement the following to grammar-related blogs:
#1. Grammar Police a.k.a. GrammarCops
They don't have a lot to say, considering their ilk. However, this is what they have to say about their blog entitled, "Grammar Police a.k.a. GrammarCops"
Grammar, language, and usage observations, ramblings, and questions by us and others
Don't overlook the section links at the top of the page or you'll miss out on:
GrammarGallows – Offenders
GrammarGroupies – Tweeple
Grammar Guard – Deputies
And more. I'm sure you'll be interested in learning how we mortals – not you grammar cops – all make mistakes. For instance: How many of you say — "Daylight Savings Time"? Raise your hand. It figures you'd be one, EB. It's not Daylight SavingS Time – it's Daylight Saving Time. Now you know. And recently someone published an article saying it's Daylight saving time. Apparently, the Grammar Police are so picky they even picky on themselves (yes I said picky twice. So?).
You'll know more if you visit Grammar Police a.k.a. GrammarCops.
And as long as we're learnin' grammar…
#2. Grammar Clout
The Clout of the Comma. The comma does has a lot of clout, you know. Who can forget:
Let's eat grandpa.
or
Let's eat, grandpa.
or
"A woman, without her man, is nothing."
Which EB corrected to read:
"A woman: without her, man is nothing."
If you are an effete, snobby, intellectual grammar cop, you know all about that. Right? Commas count.
To see how much commas count, visit one of our junior sites of the week, a sibling to our site of the week, and a site we hope you all enjoy. You gotta love that sentence, grammar cops!
Commas have clout – come visit Comma Clout right now.
Let's eat EB!
#3. Apostrophe Abuse

Nothing gets abused more than apostrophes, except me. And I don't have a lot to say about apostrophes, and neither does the Apostrophe Abuse web site. They prefer graphics – more correctly – photographs of apostrophes being abused all over the world.
So, to make a short article even shorter, let's skip the dialog and direct your attention to the little cartoon to the left.
Enough said. If you hate seeing apostrophes being abused or you're looking for more ammo for your official grammar-police-issued gun so you can shoot poor knaves like me who don't know grammar good, you'll want to visit Apostrophe Abuse.
You'd think with all these grammatically correct websites and all this grammatically correct insight and influence, I'd do much better than I do. But alas, I'm an old dog and I admit it. And we all know that it's hard for an old dog to learn new trick's 🙂
And EB's my part-time editor. And I do mean "part-time"… right, EB?





VERSION 8.30 NOW AVAILABLE!
If you purchased or renewed Reg Organizer through Cloudeight within the last 12 months, you're entitled to a free version upgrade to Reg Organizer 8.30.

Save $14 on Reg Organizer right now!

Reg Organizer - A Swiss Army Knife of Windows Tools - Works Great on Windows 10!




Autumn Thoughts

In my tiny part of the world, autumn has settled in.

Walking outside it may still feel summerlike, but a glance at the clock when darkness covers my little town tells me the days are getting shorter and the nights are getting longer. the shorter days are a subtle reminder that the bitter, biting and unrelenting winds of winter will soon whip the snow in whitescapes swirling and drifting down my lonely street and painting the world white.

Soon, I'll watch the flakes flurry in dizzy dances under the street lamp and wonder where summer… and autumn have gone.

In its own way, the beautiful and brilliant palette of autumn, the reds and yellows and shades of orange, displayed by the dazzling trees, mock the deep sadness born from the reluctant realization that another summer has gone, another autumn has come, winter is on its way… and another year of my life is almost gone...

Every year passes faster than the one before. The less time I have left the more quickly time passes. Weeks pass by like days... and months pass by like weeks.

I am not quite sure why autumn has such a profound effect on me, but it does. It brings deep thoughts and uncertainties and makes me wonder. Why is life not fair? Life is unquestionably not fair. It seems to me that if life was fair, time would pass quickly when we're young and have plenty of time, and pass slowly when we're older when the sand in life's hourglass is swiftly running out.

As a child sitting in school, I remember...

Please read the rest of "Autumn Thoughts" here.




Includes "Anytime Repair" with Our Unattended Support Feature!

SeniorPass: A Great Deal for Our Friends 60 and Older!

With our Cloudeight Direct Computer Care SeniorPass, our friends age 60 and older get one full year of unlimited computer care and repair for one low price. With our SeniorPass you'll get the best computer care anywhere - any time you need it!

SeniorPass is valid for unlimited computer care & repair sessions for one full year starting with the first time you use it. The clock does not start ticking until you use your SeniorPass for the first time. A great deal!

Having SeniorPass is just like having insurance for your computer. You'll get one full year of computer care and get help with almost any computer problem whenever you need it. We're here to help you.

Computer care & repair for one full year just $99! Check out our SeniorPass offer right now!

Get your SeniorPass and/or get more information here.






What does DNS mean? What's it for?

DNS is an acronym for The Domain Name System. DNS is a standard technology for managing names of Web sites and Internet domains. Domain Name Servers allow you type in an easy to remember Internet address like thundercloud.net and find it immediately on the Web. So it takes the easy to remember name Thundercloud.net and looks it up in the DNS directory to its corresponding numerical IP address and displays the page for you. If it were not for DNS servers you'd have to know the numerical IP address of the sites you want to visit.

Theoretically, the faster the DNS server you use, the faster Web pages will resolve and display. While many other factors affect how fast pages load, the most important is the speed of your Internet connection, DNS technology makes the Web more useable for everyone.

There are many DNS servers supporting the Web. So technically, a DNS server is any computer registered to join the Domain Name System. A DNS server contains and maintains a database of network names and addresses for other Internet hosts.





Sales of the following products and services help support our newsletters, websites, and free computer help services we provide.

Cloudeight Direct Computer Care: Single Keys, SeniorPass or Season Tickets - always a great deal. Cloudeight Direct Computer Care is like having PC insurance. Get more information here.

Emsisoft Anti-Malware: Emsisoft is the only Cloudeight endorsed and recommend Windows security program. It provides users with a complete antivirus, antimalware, anti-ransomware, anti-PUPs solution. We offer single Emsisoft licenses and multi-computer licenses at discount prices. Also, we offer our exclusive Emsisoft with Cloudeight installation & setup. Get more information here.

Thunderbird Email Setup: Thunderbird is a great email program that you can use with your Gmail and Outlook.com (Hotmail) webmail accounts as well as with your Internet provider's email. We'll set it up correctly you. Our set up includes configuring up to 3 email accounts and setting up Thunderbird to use stationery (if desired). Our Thunderbird Email Setup Service is always a great deal. For more information visit this page.

Reg Organizer 8.30: Reg Organizer is the Swiss Army Knife of Windows tools. It's far more than just a registry optimizer and cleaner... it's a Windows all-in-one toolkit. Reg Organizer helps you keep your computer in tip-top shape and helps you solve annoying Windows problems. Reg Organizer works great with Windows 10! Get more information about Reg Organizer (and get our special discount prices) here.






These products and services are recommended and endorsed by Cloudeight:



We'd love to hear from you!

If you have comments, questions, a tip, trick, a freeware pick, or just want to tell us off for something, let us know.

If you need to change your newsletter subscription address, please see "Manage your subscription" at the very bottom of your newsletter.

We received hundreds of questions for possible use in IA news. Please keep in mind we cannot answer all general computer questions. We try to personally answer as many as we can. We can only use a few to in each week's newsletter, so keep this in mind. If you have a support question about a service or product we sell, please contact us here.





Subscribe to our Daily Newsletter!

Get computer tips & tricks every night. Our daily newsletter features a computer tip/trick or two every day. We send it out every night around 9 PM Eastern Time (USA). It's short and sweet, easy-to-read, and FREE. Just visit this page and sign-up. All you have to enter is your email address. Once you confirm your subscription, you'll receive our daily newsletter every day, six days a week. You can unsubscribe at any time.

Print our Cloudeight Direct Computer Care Flyer!

Print our Cloudeight Direct Computer Care Flyer and spread the word about our Cloudeight Direct Computer Care repair services. Get our ready-to-print flyer here.





We hope you have enjoyed this issue of InfoAve Premium. Thanks so much for your support and for being a Premium subscriber.

Have a great weekend.

Darcy & TC
Cloudeight InfoAve Premium - Issue #836
Volume 16 Number 52
October 18, 2019

Not a subscriber? Subscribe to our InfoAve Premium Newsletter

Share Us on Facebook!
We'd love for you to share us with your family and friends on Facebook. Help us by sharing us on Facebook!






"Cloudeight InfoAve Premium" newsletter is published by:

Cloudeight Internet LLC
PO Box 73
Middleville, Michigan USA 49333-0073

Read our disclaimer about the tips, tricks, answers, site picks and freeware picks featured in this newsletter.

Copyright ©2019 by Cloudeight Internet