Cloudeight InfoAve Premium
Issue #779
Volume 15 Number 48
September 14, 2018.

Dear Friends,

Welcome to Cloudeight InfoAve Premium issue #779. Thank you for subscribing and for being a part of our Cloudeight family. We appreciate your subscription and your support very much!






SeniorPass: A Great Deal for Our Friends 60 and Older!
With our Cloudeight Direct Computer Care SeniorPass, our friends age 60 and older get one full year of unlimited computer care and repair for one low price. With our SeniorPass you'll get the best computer care anywhere - any time you need it!

SeniorPass is valid for unlimited computer care & repair sessions for one full year starting with the first time you use it. The clock does not start ticking until you use your SeniorPass for the first time. A great deal!

Having SeniorPass is just like having insurance for your computer. You'll get one full year of computer care and get help with almost any computer problem whenever you need it. We're here to help you.
Computer care & repair for one full year. Check out our SeniorPass offer right now!
Get your SeniorPass and/or get more information here.


A comment from John
I want to thank you Darcy for coming to the rescue on such short notice. I had something in my browser that I could not get rid of, and she was able to fix it and also optimized my computer while she was here. Friendly, inexpensive and trustworthy computer repair. I'm thankful for Cloudeight. And thanks again to Darcy.

A comment from Jason
(In reference to our article about browser attacks): I just had this happen and had written this down from a previous newsletter. As usual, Cloudeight came to the rescue. Thank you both for the work you do. Every quarter, whenever I have something left over in my budget, I always set some aside for you. You both earn it every week and I do what I can to thank you. Jason

A comment from Olstan
A belated thank you, Darcy, For helping me out with the message that kept appearing when I opened emails Oh, to just have a portion of your vast knowledge. Kind regards, Olstan

A comment from Lilian
Well this is the first time I had TC and what an experience....for him. wont tell you why but my goodness he is so kind and patient . I even clocked out before he was finished and was so cool asking me to get back. My machine is working great. Today I am going out to buy a key board, mine was not helping very much. If I need help again, there is no question who should help me. Thankfully yours, Lilian

A comment from Marcie
Thanks to TC for coming to the rescue. I thought I had a virus but it was just something that I had installed that was starting up with Windows. He found it and removed it - but didn't stop there. While he was on my computer he cleaned things up, optimized startups and got some bad extensions removed from Firefox for me. Kudos to TC for his knowledge & patience. Marcie.

A big Cloudeight "Thank you!" to John, Jason, Olstan, Lilian, Marcie and everyone who took time out to write to us this week. We appreciate your kind words and your support very much! EB & TC

Cloudeight Direct Computer Care computer repair keys are always a bargain! Get your Repair Keys here.






THANK YOU FOR HELPING US!

When you support us with small gift, you help us continue our mission to keep you informed, separate the truth from the hyperbole, and help you stay safer online. Plus, our computer tips make your computer easier to use.

Did you know that we provide support to thousands of people? Every week we help dozens of people via email at no charge. The questions and answers you see in our newsletters are from the email answers and help we provide to everyone free of charge.
Thanks to your gifts, we do a lot more than provide this free newsletter. We help you recognize online threats, fight for your online privacy, provide you with the knowledge you need to navigate the Web safely, provide you with suggestions for safe, free software and websites, and help you get more out of your PC.
Please Help us keep up the good fight with a small gift.
After giving your gift, you will receive an invitation to become a Cloudeight Booster.

Interested in making an automatic monthly gift? Visit this page. Help us keep helping you... and helping you stay safe on the Web.



Here are some important links for you:





Lindsay's browser is infected with a tech support scam popup
Hi Darcy and TC. I keep getting a "your computer has been blocked virus" popup in Firefox. I have tried all the search suggest programs like Sophos, ADW, etc. and they advise my computer is clean. But still it continues. I can close it using task manager but it still pops up occasionally. It has me concerned just to know it's on my system... Ii suppose i could reinstall Windows 10, sometimes this appears the only way out with this computer.

Here is a screenshot: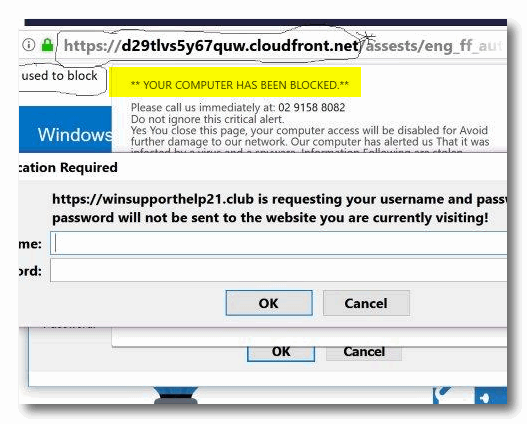 Your comments would be appreciated. Thanks, Lindsay (from Oz)

Our answer
Hi Lindsay. No need to reinstall or reset Windows 10. What you have is a very common but very annoying tech support scam browser hijacker (advertisement).

You're using Firefox, so here are some ideas for you:

1. Click "History" on the toolbar at the top then click "Clear recent history" from the dropdown menu and choose "Everything" in the box next to "Time range to clear".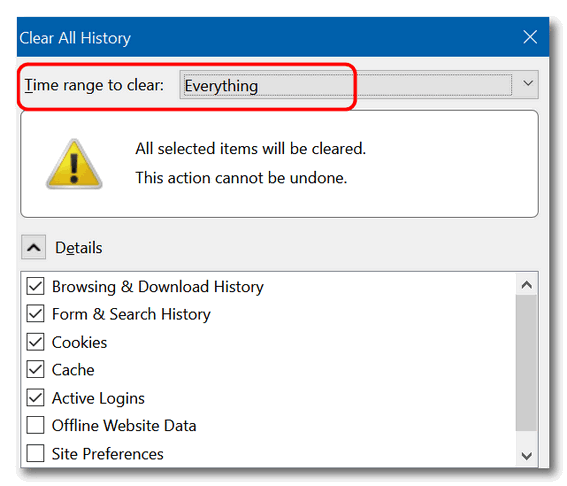 2. Click on Help on the toolbar then click "Troubleshooting" information.

3 . On the page that opens in the upper right, under "Give Firefox a tune up", click the "Refresh Firefox" button.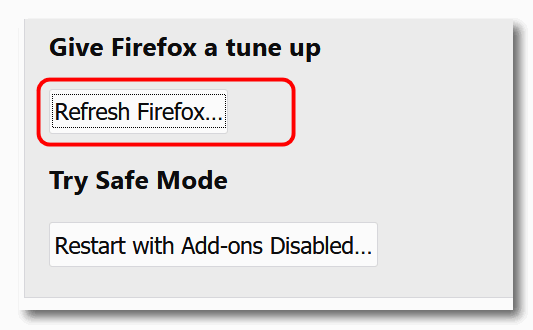 Now, restart Firefox.

If the above doesn't fix the problem, then the next solution is to uninstall & reinstall Firefox, but don't delete its data folders... this will keep your bookmarks and other settings intact when you reinstall Firefox.

Let us know if this helps you.

Lindsay wrote back: "Hi TC. I've carried out the latter [uninstall & reinstall] on receipt of your email and all going good at this juncture i.e. no hijacker. I take my hat off to you guys at Cloudeight, you do not give up until you succeed, as is the case you have solved for me. Thanks so much. Best wishes to all. Lindsay F. "





Leo wants to know if he should keep using an older version of a program
This is with reference to the word processor AbiWord. I have version 2.8.6 and the latest version is 3.0.2. This version is not available for Windows.

My question, should I just forget about updating and carry on OR should I consider another word processor. Thanks in advance. Leo

Our answer
Hi Leo. If the program works for you, does what you need it to do and you like it, why update it anyway? We're still using a version of PaintShop Pro from 2002. We tried all the "updates" and "upgrades" and newer versions, but we're happy with it the just the way it is. It's old but it does what we need it to do.

If you're unsatisfied with the version of AbiWord you have, then let me know - there are several good MS Word emulators out there.





John is looking for an easy way to find all of our tips and tricks
Hello Everyone at Cloud Eight. I have been reading your awesome letters for years and have a question I should know but am drawing a blank.

I save all of your newsletters, but am beginning to crowd the PC. How can I go search any problem I have seen discussed in a newsletter, maybe even a couple years ago. I am sure it is possible, but again, my feeble old mind is drawing a blank. I could then delete the saved letters, freeing up valuable space.

Thank you so much for all the excellent help you provide. A customer for life :-) John

Our answer
Hi John. Thanks so much for your long-time friendship and support.

Almost everything in our newsletters is archived on our Website at http://thundercloud.net/infoave/new/

On the top right side of the page, there's a great site search engine. Just type what you're looking for and if we have written about it, you'll find it in seconds!

See this page for more information on using our site search to find what you're looking for.

And - just a reminder: If you want to print something, make a PDF from an article or share it by email, just click the green Print Friendly button near the top of each article.

And don't forget, every October, we publish an E-book that contains all 52 issues of InfoAve Premium for the most recent year of publication. Our E-Book Volume 14 (last year's E-book) is still available. And we'll be publishing Cloudeight InfoAve Premium E-Book Volume 15 in October. We'll announce it as soon as it is ready. Our E-books come with a great search engine so you can find exactly what you're looking for.

We hope this helps you!





Martha has several questions about Windows 10 installation disks
I have three questions pertaining to Windows 10 Installation DVD's.

1. Should a new Windows10 Installation DVD be made each time Windows 10 comes up with a new updated version?

2. Can the same Windows 10 Installation DVD made from one Windows 10 64-bit system computer be used in other computers that also have Windows 10 64-bit systems?

3. Does a separate DVD need to be made if instead you also have computers that have Windows 10 and are of the 32-bit system?

Thank you for your great newsletter that is full of computer information and easy to understand instructions. Have used your repair service numerous times and have been very pleased. Thanks again.

Our answer
Hi Martha. Thank you so much for your nice comments. Here are the answers to your questions.

1. Yes, you should make new Windows installation disk (or installation USB Flash Drive) each time a new major version of Windows 10 is released.... but you don't have to. A new major new version of Windows comes out twice each year. With all that being said, you don't have to create a new disk each time - but it will save you a lot of time should you need to install Windows from the disk. If you have a disk of an older version of Windows 10 than is current, it will update the files over the Internet during install (or you'll have that choice during install).

2. You don't make a Windows 10 Installation Disk from the computer, you make it by downloading a file from Microsoft from this link. Click on "Create installation media".

An ISO file is a disk image you can use to make a Windows 10 installation DVD. That DVD contains both the 32-bit and the 64-bit version. You can choose the version you want to install during set up. You can also create an installation USB flash drive. We recommend you use a new 16 GB USB flash drive for this. You can purchase one for less than $10.

3. You make the Windows 10 Installation Disk from the file you download from Microsoft as above. In Windows 10 you only need to download the ISO file, put a writable DVD in the drive and double click the ISO file you downloaded to burn the disk image to DVD. It contains both 32-bit and 64-bit Windows 10. You can also choose to create an installation USB.

A Windows 10 installation disk (or USB flash drive) is valuable for a lot of things besides installing or reinstalling Windows. You can use it like a recovery disk to boot your computer if your computer won't boot. Booting from the DVD allows you to access Windows 10's troubleshooting tools. You can also access Startup repair, System Restore, System Reset, Fresh start, Administrative command prompt, and more tools that can help you fix your PC. And of course you can also use the disk to reinstall Windows 10 or clean install Windows 10. If you are reinstalling or clean installing on a PC on which Windows 10 has been installed, you don't need a product key. But you cannot use disk on a computer that hasn't had Windows 10 installed on it without a product key. Although you can (as of August 2018) still upgrade a Windows 7 or Windows 8 PC to Windows 10 without a product key and without buying anything. See our article here.

We hope this answers your questions... if not, let us know.

Thanks again for your support and your nice comments.



Euan says a web site form has no submit button
What can you do if anything, if you purchase a product (Brabantia Microwave Oven) and you go to their official website with a question or complaint, take all the trouble of filling out all the required contact information details etc. and then find there is no "SEND" button at the bottom or anywhere for your message?
P.S. ... and thank you for making the verification of our emails to you so simple and straight forward and clearly showing the word "submit" at the bottom in order for us to do so. Euan.
Our answer
Hi Euan. Thanks so much for your nice comments.
With regard to web pages and web forms not working correctly: We have had this happen to us many times, and our solution is always pretty simple: We just use a different browser to access the problematic site and then we don't have any problems. We can't be sure why this happens, but our best guess is that the web page or form on the page is simply not compatible with all browsers.

Bev wants to know about a Windows backup program
Hi people: I was just reading something about backup on the internet and somebody was touting "Macrium Reflect Free". I was wondering what you would say about this program. Good, bad or indifferent? Bev.
Our answer
Hi Bev. Macrium Reflect has been one of our freeware picks for a long time. However the free version does not have incremental backups which means that after a while your external drive will get full and you'll have to manually delete the oldest backup(s). If you want incremental backups, you'll need to purchase the commercial (paid) version.
We use Ashampoo Pro 11 when we do backups - we provide a license free of charge when you purchase
our backup service
. Ashampoo offers incremental backups, file and folder backups, and customized daily or weekly backups.
You can read more about our backup service here
.
That being said, using Macrium Reflect (free) or just turning on
Windows File History
is better than no having backups at all.
Keep in mind you'll need an external hard drive of 1 TB or larger to do any kind of backups. You can buy one for $50-$60 (sometimes less on sale) if you don't already have one. You can order the online from Amazon, or buy them at Walmart, BestBuy, Staples, etc.
Hope this helps!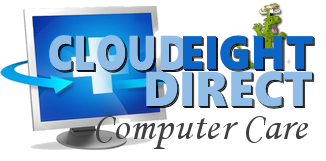 With our Cloudeight Computer Care, we'll fix your computer while you watch. You'll be getting the best computer repair service available, at the best price, from people you trust. Our Cloudeight Direct Computer Care single repair keys are a great deal. They are good until you use them. For more information see our Cloudeight Direct Computer Care home page!



3 Quick Windows 10 Tricks
Windows 10 (all versions)
The weekend is here (depends on when you read this I guess) and it's time to take time for some fun stuff. Here are three quick Windows 10 tricks you may not know. You might even find them useful. Anyway… have fun!
Desktop Trick
Have you noticed the thin strip at the far-right edge of your taskbar? It looks like this:


Did you know if your click it , it will clear everything and take you directly to your desktop?
And if you right-click you'll see this menu: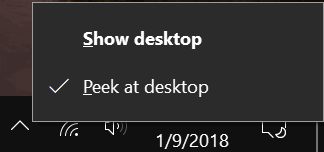 And if you enable "Peek at desktop" all you have to do is hover over the very right-edge of your taskbar and you'll be able to peek at your desktop?
Cortana Trick
Hey Cortana users! Did you know that you can use Cortana to roll the dice, flip a coin or even play Rock, Paper, Scissors. Try it
Say "Hey Cortana. Roll the dice", or "Hey Cortana – Rock, Paper, Scissors" or "Hey Cortana, flip a coin".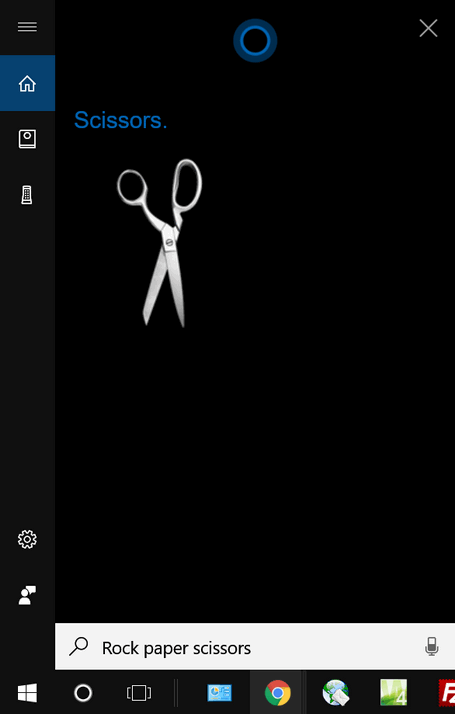 But don't ask Cortana to play chess or she'll think it's a band. And don't ask her to play checkers – because all you'll get are videos of checker games. How exciting!
Shake it up baby, now!
If you have a desktop full of windows, you can clear all the windows by grabbing the top of the window you do want to stay in view and "shaking" it rapidly side to side. This minimizes all the other windows except for the one you shook.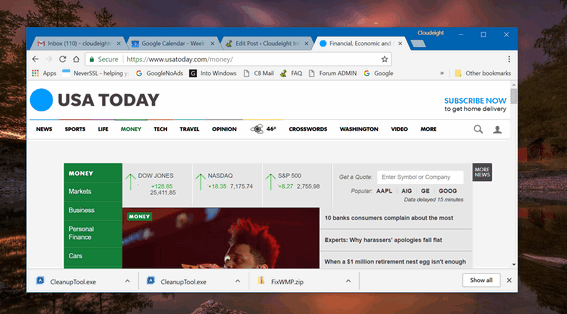 Miss all those windows? No problem, shake the window again and all the windows will come back.

The Dictator In Windows 10
Or...How to use Dictation feature in Windows 10
Windows 10 Version 1803
Sorry for the click bait, I couldn't resist using the word "dictator" – did you picture Bill Gates with a little mustache and wearing a military uniform?
Enough of that…
Did you know that beginning with the Windows 10 Version 1803 (April 2018 Update) it's easier than ever to use your voice to take a note, write your thoughts or it's now easier than ever to take a note , write an email or even write a story or an essay, just by using your device's microphone and your voice?
To use the new and improved dictation feature in Windows 10 Version 1803 (April 2018 Update) and newer versions of Windows 10, press and hold down the Windows Key and tap the H key, then place your cursor in (almost) any text field and start talking. It works with almost any app including MS Word, WordPad and Gmail. Also note: You may have to click the "microphone" icon in the dictation bar before it will start "listening". See?
Here's an example of Windows 10 Dictation being used with MS Word. See?
Above: You can see Windows Dictation is "Listening…" and in Word you can see what I've dictated. You can add punctuation by saying comma, period, etc. And you'll find that the more you use Windows Dictation, the better it does at understanding your voice.
When you're done dictating just say "Stop dictating". That's it. You're the dictator with Windows 10 dictation!

Easily Switch Between the New Gmail and Classic Gmail
Windows 7, 8x, and Windows 10 & using Gmail
A few months ago Gmail announced the new Gmail with a new interface. But if you're a fan of the classic (or old) Gmail, no problem. Google has done something many companies don't do much anymore and that's give you a choice. If you don't like the new Gmail, you can easily switch back to classic Gmail – or the "old Gmail" as we call it.
Whether you like the new Gmail or the classic (old) Gmail, it's easy to switch back and forth. This tip is to remind you that you can switch back and forth and we show you how.
Sign into Gmail, and click on the Settings icon (it looks like a gear). If you're using the new Gmail, click on "Go back to classic Gmail" and Gmail will quickly switch back to its old look.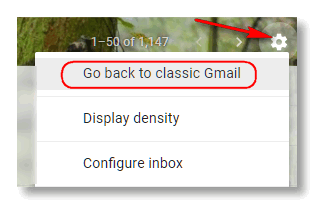 If you're using classic Gmail and want to try the new Gmail, click on the Settings icon, and click on "Try the new Gmail" and Gmail will switch to the new look.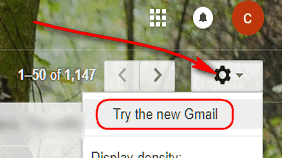 You can switch back and forth as much as you like without affecting your email messages.
New Gmail or classic Gmail: Which do you like best?



Backup Your Google Account(s) - A reminder!
Everyone with a Google Account

We're all (well, most of us) storing more and more data in the cloud. Gmail (a Google service) is the most popular web mail service with over 1 billion users -including EB and me. If you have Gmail, you have a Google account. If you have a Google account, you have Gmail.

Google has your data backed up in several locations - in modern, environmentally-controlled data centers with security as tight as Fort Knox. If you're not from the USA, Fort Knox makes gelatin - Knox Gelatin. I'm just kidding. And the chances that Google will ever lose your data are as slim as the Cleveland Browns winning the Super Bowl. The chances of that are slim and none - and slim just too the last plane out of town.

But despite the fact we are nearly 100% certain that Google is not going to lose your data - or lock you out - it's still prudent to backup important data to an external drive. If the sun has 1800-style solar flares and they knock out all electronics and the internet, you can access all your email - not that you'll need it, since you won't have power to run your computer unless you have a generator.

Yes, I'm running on and on because I don't want to strike fear into your hearts; I just want to show you how to back up all your Gmail and other data you store on Google services.

Now, on with the show! (What's that you say, EB? Why didn't I say "irregardless"? Because irregardless is not a proper word. I take enough heat for my grammatical bumbles without intentionally setting myself up. Enough all right, EB? No, it's "all right" - alright is not a proper word either. Do you want all those editors-in-waiting - err Grammar Police to come down upon me like a swarm of locusts?)

OK now --- On with the show (for real)!

First make sure you're logged into the Gmail or Google Account you want to back up. Then visit this page to access Google Takeout:

https://takeout.google.com/settings/takeout

That link takes your right to the page where you can choose your Google data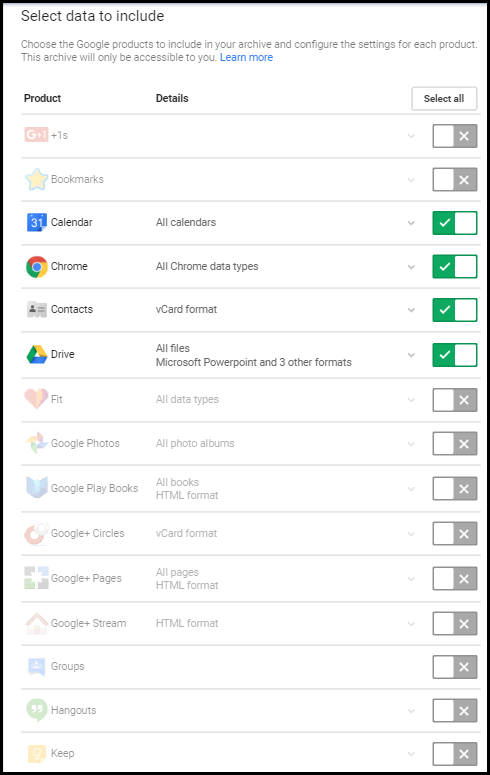 Above: Slide the switches to select or unselect the Google Data you want to include in your backup archive and then click "Next".

(Below): After you click "Next", you'll be given an opportunity to select the file type of your data backup (we strongly suggest you leave it set to .zip format. Zip files can be opened on almost any computer. Then you can select how you want your data backup archive delivered. We suggest you download you select "Send download link via email". That way you can save it to your local drive. Once you have it stored locally you can add it to One Drive, Dropbox or Google Drive later on.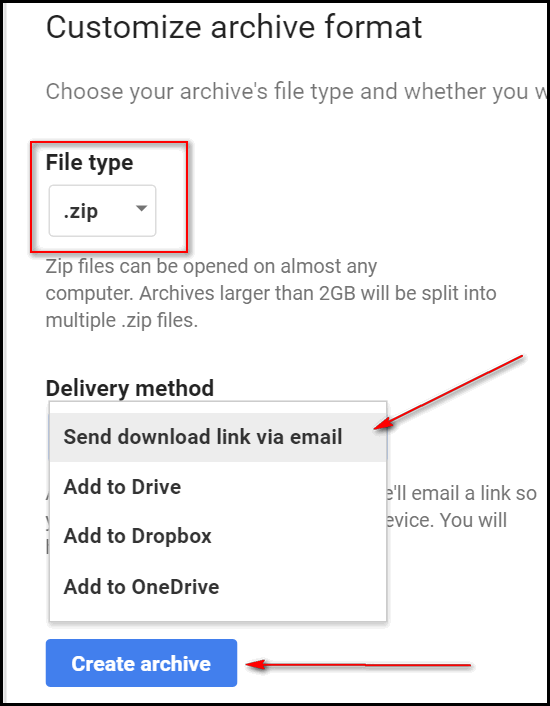 Then click "Create archive". Note it may take hours or days before receiving your backup - it all depends on how much data you have in your Gmail and Google Accounts.

Want more computer tips & tricks?
Yahoo Admits It Reads Your Emails and Sells the Data It Reaps
Microsoft to Sweeten Office 365 Deals
We have thousands of Windows tips, tricks and more on our InfoAve web site. Come see for yourself!





SeniorPass: A Great Deal for Our Friends 60 and Older!
Computer care & repair for one full year.
Get your SeniorPass and/or get more information here.




Flask: Create, Save and Share To-Do Lists
One thing I really like about EB is she always has a flask with her. Whether she's out on Lake Michigan on her 62′ schooner, or sitting in the lounge at Big Pines Ski Resort having a glowing Bananas Foster while sipping a pumpkin latte, or getting a full-body massage from her personal masseuse, she always has a flask with her.

And, unlike most other things she owns, she'll occasionally share the contents of her flask with almost anyone... even me! Why, just the other day, I saw her give a man selling Rolex watches on a street corner in Grand Rapids a slug from her flask. She's generous with her flask, I tells ya!

But, we're not offering you a slug from EB's flask today. No, my friends. We're here to tell you about a unique web site called Flask where you can create a to-do list and save it without even having to give them a speck of personal information — just a name and an email address. All you have to do is visit http://flask.io and start creating a to do list or even two... or three. How in the world can you have that much to do? Work for EB, that's how!
You can create a to-do list without even signing up. However, just to be fair, if you want to save your to-do list or make multiple lists you'll need to create a free account. No personal info required, just a name (call yourself Robert E. Lee if you choose). See?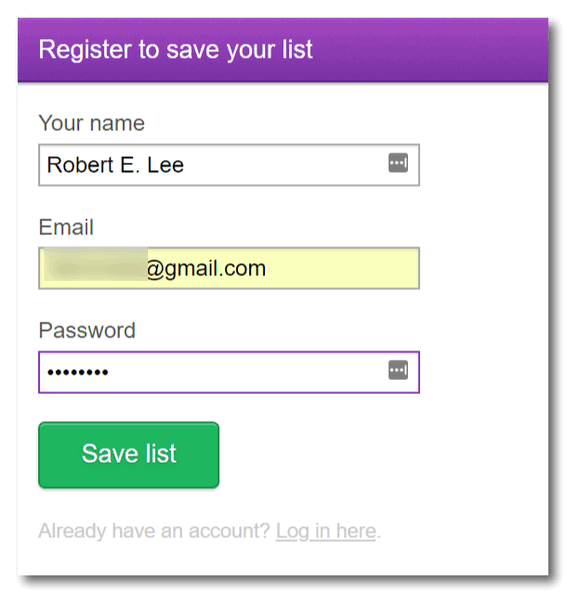 Here's a list I created and saved just a few minutes ago.




And I'll even share my to-do list with you...visit my to-do list page.

The nice part about the to-do lists you create on Flask is that you can share your to-do lists between devices - like your phone, tablet, and/or PC, or with your club or organization, or with your friends.. So, in a way it's a little like EB who shares the contents of her flask with almost anyone. And, let me tell you... she's not fussy. Like I said, she even shares it with me.

If you want to save your to-do list, you can sign up for an account. I guess a list wouldn't be much good if you didn't save it. But who am I to say?

Create your own To-Do list in seconds by visiting this page.
... and don't forget my birthday!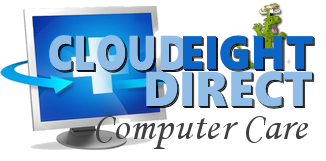 With our Cloudeight Computer Care, we'll fix your computer while you watch. You'll be getting the best computer repair service available, at the best price, from people you trust. Our Cloudeight Direct Computer Care single repair keys are a great deal. They are good until you use them. For more information see our Cloudeight Direct Computer Care home page!





Twilight Time

Some nights I have trouble drifting off to sleep.

I have so much on my mind: The events of the day, swirling; troubles bubbling up, worries weighing heavily, all stirred together into a dark disturbing dissonance. Most nights, however, when the convergence of daily troubles and worries from days and weeks and months before, becomes dim and ephemeral — still I usually fall into a dreamless, restless sleep.

It is ironic that the soundest sleep I experience is the sleep right before the alarm clock rings, when I have to get up and get ready to face the challenges, surprises, and wonders of the new day. There's a Twilight Time in which I live when I first awaken that is antithesis of the troubled moments at night when I'm trying to fall asleep. The moments of the Twilight Time are pure, innocent, peaceful, full of grace and far too evanescent.

The Twilight Time is what I call the brief interlude of magical moments...

Read the rest of this essay here.






Now available: Reg Organizer 8.16

If you purchased or renewed Reg Organizer through Cloudeight within the last 12 months, you're entitled to a free version upgrade to Reg Organizer 8.16.

Save $14 on Reg Organizer right now!

Reg Organizer - A Swiss Army Knife of Windows Tools - Works Great on Windows 10!





What in the world are Windows ToggleKeys?

ToggleKeys is a term used to describe a computer keyboard key that has one or more functions. For example, the caps lock key, Num lock key, and scroll lock key are examples of ToggleKeys. ToggleKeys are also an accessibility option.

When ToggleKeys are turned on, your computer will make a high or low tone beep when you press any of the NumLock, Caps Lock, or Scroll Lock keys.

Did you know that the NumLock key is not as useless as you thought? Did you know that you can turn ToggleKeys on by using only your NumLock key? When ToggleKeys is on, your computer will beep whenever you press the Caps Lock, Scroll Lock or NumLock keys). Normally, you would turn ToggleKeys on in Accessibility Options in Control Panel.

And the NumLock key isn't as useless as you thought. Did you know that you can simply hold down the NumLock button for five seconds, and that, my friends, turns on ToggleKeys for you. If you're using Windows 10, you can press Windows Key + U to access Ease of Access, then click on Keyboard and turn on ToggleKeys there as well. Oh, yeah, and you can also turn them off from there as well.



Sales of the following products and services help support our newsletters, websites, and computer help services we provide.

Cloudeight Direct Computer Care: Single Keys or Season Tickets - always a great deal. Cloudeight Direct Computer Care is like having PC insurance. Get more information here.

Emsisoft Anti-Malware: Emsisoft is the only Cloudeight endorsed and recommend Windows security program. It provides users with a complete antivirus, antimalware, anti-ransomware, anti-PUPs solution. We offer single Emsisoft licenses and multi-computer licenses at discount prices. Also, we offer our exclusive Emsisoft with Cloudeight installation & setup. Get more information here.

Cloudeight Backup Service: Professional setup of a complete backup system including creation of rescue media, image backups, incremental backups, Cloudeight Direct Backup session key and a lifetime license for Ashampoo Backup Pro 11. Get all the details here.

Thunderbird Email Setup: Thunderbird is a great email program that you can use with your Gmail and Outlook.com (Hotmail) web mail accounts as well as with your Internet provider's email. We'll set it up right for you. Our set up includes configuring up to 3 emails accounts and setting up Thunderbird to use stationery (if desired). Our Thunderbird Email Setup Service is always a great deal. For more information visit this page.

Reg Organizer 8.17: Reg Organizer is the Swiss Army Knife of Windows tools. It's far more than just a registry optimizer and cleaner... it's Windows all-in-one toolkit. Helps you keep your computer in tip-top shape and helps solve annoying Windows problems. Reg Organizer works great with Windows 10 too! Get more information about Reg Organizer (and get our special discount prices) here.




If you don't need any of the above products or services at this time, please consider helping us with a small gift. Everyone who helps us with a gift is invited to become a Cloudeight Booster and is eligible for special Cloudeight Booster Freebies and special Cloudeight Booster sales. Please consider making a small donation today. Ad thanks to all of you who support us! We appreciate it very much!
Premium Subscribers' Home Page. You'll find the last few weeks of Premium archived on this page.
To change your subscription address, see "Manage your subscription" at the bottom of this newsletter.
Submit your questions, comments, and suggestions for possible inclusion in our newsletters here. This form is for questions, comments, and suggestions for this newsletter. This form is not for product support, stationery questions, or general questions concerning our products or services.
Send us your suggestions and recommendations for future freeware picks and/or sites of the week
Help us Grow! Forward this email newsletter to a friend or family member - and have them sign-up for InfoAve Premium here!
Get our free daily newsletter! Each evening we send a short newsletter with a tip or trick or a computer-related article - it's short and sweet - and free. Sign-up right now.
Have a question about a Cloudeight Software program, service, stationery, or need to ask about an order? Let us know!
If you need help with one of our software programs, have a question about an order, or have a question about any of our email stationery, screensavers, or other products - please don't use our InfoAve Questions/Answers/Tips form. Use our general Cloudeight support form instead.
Print our Cloudeight Direct Flyer and spread the word about our computer repair service! If you want to help us by telling your friends about our Cloudeight Direct Computer Care service, you can download a printable flyer you can hand out or post on bulletin boards, etc. Get the printable PDF Cloudeight Direct Computer Care flyer here.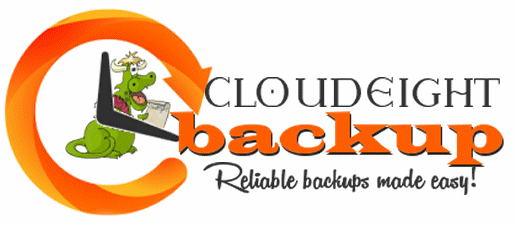 Cloudeight Backup Service - Who knew peace of mind could be so inexpensive?
Reliable automatic complete system backups with rescue system - all part of our Cloudeight Direct Computer Care Backup service. We'll connect to your PC and set up a reliable image & file and folder backup - and create rescue media for you so that you can access your backups even if your hard drive fails. Automatic backups and a rescue system set up for you. And our service includes a lifetime license for Ashampoo Backup Pro 11 (Read TC's review here)! Our complete backup service is available for just $30. Who knew peace of mind could be so inexpensive?
See this page for more information




These products and services are recommended and endorsed by Cloudeight:
Also... don't forget:




We'd love to hear from you!

If you have comments, questions, a tip, trick, a freeware pick, or just want to tell us off for something, let us know.

If you need to change your newsletter subscription address, please see "Manage your subscription" at the very bottom of your newsletter.

We received hundreds of questions for possible use in IA news. Please keep in mind we cannot answer all general computer questions. We try to personally answer as many as we can. We can only use a few to in each week's newsletter, so keep this in mind. If you have a support question about a service or product we sell, please contact us here.





Subscribe to our Daily Newsletter!

Get computer tips & tricks every night. Our daily newsletter features a computer tip/trick or two every day. We send it out every night around 9 PM Eastern Time (USA). It's short and sweet, easy-to-read, and FREE. Just visit this page and sign-up. All you have to enter is your email address. Once you confirm your subscription, you'll receive our daily newsletter every day, six days a week. You can unsubscribe at any time.

Print our Cloudeight Direct Computer Care Flyer!

Print our Cloudeight Direct Computer Care Flyer and spread the word about our Cloudeight Direct Computer Care computer care and repair services. Get our ready-to-print flyer here.




We hope you have enjoyed this issue of InfoAve Premium. Thanks so much for your support and for being a Premium subscriber.

Have a great weekend.

Darcy & TC
Cloudeight InfoAve Premium - Issue #779
Volume 15 Number 48
September 14, 2018

Not a subscriber? Subscribe to our InfoAve Premium Newsletter

Share Us on Facebook!
We'd love for you to share us with your family and friends on Facebook. Help us by sharing us on Facebook!






"Cloudeight InfoAve Premium" newsletter is published by:

Cloudeight Internet LLC
PO Box 73
Middleville, Michigan USA 49333-0073

Read our disclaimer about the tips, tricks, answers, site picks and freeware picks featured in this newsletter.

Copyright ©2018 by Cloudeight Internet